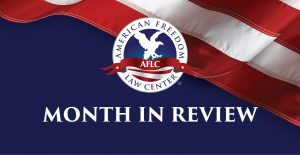 Here are highlights for August and more:
* On August 8, we filed a letter brief in federal court in Pennsylvania in our lawsuit challenging various COVID restrictions imposed by the state's left-wing governor and Department of Health secretary.
The brief addressed the issue of whether the challenge is moot now that the restrictions have been lifted.  We argue that the challenge is not moot as the restrictions are capable of repetition but too short in duration to obtain full judicial review—a well-recognized exception to mootness.
* On August 11, we did a videocast/podcast on how America is becoming a banana republic.  You can watch the videocast on our Rumble channel here.
* On August 23, our petition for a writ of certiorari (petition requesting review) in the Resurrection School case was filed in the U.S. Supreme Court.  We are co-counsel in this case, which is a constitutional challenge to mask mandates in Michigan for school children.
Since COVID, the court have been exceedingly slow to act.  As a result, we are awaiting rulings in many cases, including the following:
* We are awaiting rulings on our motion for a preliminary injunction and the Township's motion to dismiss our lawsuit filed on behalf of Catholic Healthcare International ("CHI") and its president, Jere Palazzolo, challenging the Township's denial of their right to use their private property for religious worship.
* We are also awaiting a ruling from the Michigan Court of Appeals in our challenge to an order issued by a local state court preventing CHI from using the property for religious events.
* We are awaiting a ruling from a federal court in Oklahoma in our lawsuit filed on behalf of Wayne Brown, who was fired by the City of Tulsa Police Department due to Facebook posts he made years prior to the City hiring him as a police officer.  All of the posts at issue are protected speech; one was simply a post favorable of Donald Trump.
* We are awaiting a ruling in our lawsuit challenging Attorney General Merrick Garland's attack on parents who speak out against left-wing policies at school board meetings.  Garland considers them "domestic terrorists" worthy of investigation by the FBI, his political enforcement weapon.  The lawsuit was filed on behalf of a group of parents, including parents with students in the Loudoun County, Virginia public schools.
* We are awaiting a ruling from a federal court in Michigan on our motion for summary judgment filed against Michigan Attorney General Dana Nessel in our lawsuit challenging her official support of SPLC's absurd labelling of AFLC as a "hate group" operating in Michigan.
* We are awaiting a date for oral argument from the U.S. Court of Appeals for the Second District in Geller v. Hochul, our lawsuit challenging the draconian COVID protocols criminalizing peaceful protests while supporting violent Black Lives Matter protests put in place by former NY Governor Cuomo and former NY City Mayor de Blasio.
We also have pending filings/trials/hearings, including the following:
* Our response to the government's motion to dismiss our lawsuit challenging the military vaccine mandate on behalf of four Navy SEALs is due September 13, 2022.  The case is pending in the U.S. District Court for the District of Columbia.  The lower court's denial of our request for a preliminary injunction on behalf of Navy SEAL 4 is pending before the U.S. Court of Appeals for the D.C. Circuit.
* Our reply brief in support of our class action lawsuit against Twitter and the Biden administration, challenging their joint censorship of speech, is due to be filed in the U.S. Court of Appeals for the Ninth Circuit by September 16.
* We are waiting for a court in Southfield, Michigan to schedule a jury trial for six pro-lifers who engaged in a Red Rose Rescue at an abortion center in the City earlier this year.  We are defending the pro-lifers in the case.
The trial was originally scheduled for August 16, but was moved when two of the pro-lifers were sentenced to 90 days in jail for a previous rescue they did at an abortion center in New York.
Thank you for your prayers and financial support.  We couldn't do what we do without them!