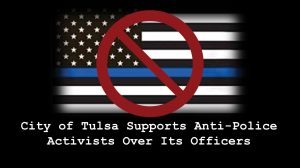 On October 9, 2019, the American Freedom Law Center (AFLC), along with local attorney Scott Wood, filed a federal civil rights lawsuit against the City of Tulsa and its Chief of Police, Chuck Jordan, on behalf of Wayne Brown, a Tulsa police officer who was wrongfully terminated because local political activists complained to the City about conservative social media posts Brown had made several years prior to his hiring as a Tulsa police officer.
As alleged in the Complaint, which was filed in the U.S. District Court for the Northern District of Oklahoma:
"On or about September 4, 2019, Defendants, acting under color of state law, terminated Plaintiff's employment as a police officer with the City of Tulsa Police Department (hereinafter "TPD") because of the content and viewpoint of certain social media posts allegedly made by Plaintiff several years prior to the City hiring him as a police officer."

"It is well settled that a State cannot condition public employment on a basis that infringes the employee's constitutionally protected interest in freedom of expression."
The Complaint alleges that the City's firing of Brown violated his rights protected by the First and Fourteenth Amendments to the U.S. Constitution.  The lawsuit seeks damages and attorneys' fees.
Brown previously filed with the City a Notice of Tort Claim, informing the City that he intends to pursue a state law claim because his employment with the TPD was wrongfully terminated in violation of Oklahoma public policy.  Brown is seeking $175,000 in damages, the maximum allowed under state law.
The City has 90 days to respond to the notice.
CASE UPDATE (December 27, 2019): The City denied Brown's tort claim.  Consequently, we filed a First Amended Complaint to add a claim for wrongful discharge under state law.
CASE UPDATE (February 19, 2020): We filed a response to the City's motion to dismiss and a response to Chief Jordan's motion to dismiss.
Attachments