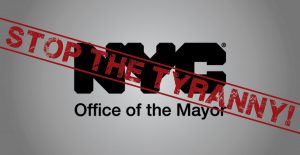 Late yesterday, the American Freedom Law Center filed a federal civil rights lawsuit in the U.S. District Court for the Southern District of New York challenging the executive orders of New York Governor Andrew Cuomo and New York City Mayor Bill de Blasio—orders which prohibit all protests in the City except the government-approved protests of Black Lives Matter (BLM).
The lawsuit, which was filed on behalf of political activist Pamela Geller, challenges the Governor's and Mayor's executive orders which prohibit "non-essential gatherings" of more than 10 people in the City—orders which make it unlawful to peaceably assemble and protest, unless your protest supports the political agenda of the BLM movement.
Geller is an author, a conservative blogger, and champion for the First Amendment.  In addition to successfully challenging government restrictions on free speech in New York, Washington, D.C., Philadelphia, and Seattle, she was the organizer of the successful public protest of the Ground Zero mosque construction in Lower Manhattan.
But for the Governor's and Mayor's suspension of the First Amendment, Geller would organize and participate in a public protest of their policies, specifically including the draconian restrictions they have imposed upon fundamental liberties during the COVID-19 pandemic.
During a press conference held on May 4, 2020, Mayor de Blasio and New York City Police Commissioner Dermot Shea publicly and officially announced that the "shut down" imposed by the executive orders included the suspension of the right to publicly protest in the City.  In other words, free speech activity was considered a "non-essential gathering" and thus prohibited by executive order.
The May 4, 2020, press conference announcement by de Blasio and Shea was prompted by a question relating to a small group of protestors (unrelated to BLM) who were instructed by New York City police to disband and who were threatened by the police with summonses and arrest if they failed to disband.
Apparently sparked by the death of George Floyd while in police custody in Minneapolis, Minnesota, beginning on May 28, 2020, and continuing daily through the current month of June 2020, hundreds and thousands of protestors have taken to the streets of New York City protesting what they allege to be police brutality against Blacks and what is referred to as systemic racism and calling for various reforms.
Notwithstanding the First Amendment restrictions in place at the time and their enforcement by the Governor and Mayor against other New Yorkers engaged in public group activity, including activity protected by the First Amendment's right to freedom of speech and to peaceably assemble, Cuomo and de Blasio have embraced these protestors and their message and have encouraged their public demonstrations and protests.
For example, on June 1, 2020, just four days after the start of the government-approved BLM protests, Cuomo and de Blasio issued a press release stating that the BLM movement is "too important and the message must be heard," that they "stand behind the protestors and their message," and that they "encourage people to protest peacefully and make their voices heard."
AFLC Co-Founder and Senior Counsel David Yerushalmi commented:
It is astounding that Governor Cuomo and Mayor de Blasio have so much disdain for our most fundamental liberties.  For months they have issued draconian edicts destroying our economy and stealing our freedom in the name of public health.  But when the message is politically important for their ends and for their political careers, public health evaporates into the not-so-thin, putrid air of hypocrisy.  The courts have not done well to preserve our liberties among the cries of a public health crisis by the political and media elites.  This lawsuit is an opportunity for justice to finally regain a foothold.
AFLC Co-Founder and Senior Counsel Robert Muise added:
We have reached a critical point in our nation.  We are experiencing a tyranny like we have never seen before.  Left-wing government officials are acting like dictators, unilaterally suspending and modifying the Constitution to suit their personal political agenda.  If we and the courts are to accept this current state of affairs, then it is the fiat of left-wing governors and mayors, and not the Constitution, that is the supreme law of the land.  This must stop.
Attachments