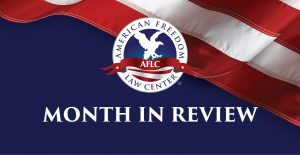 As we start another busy year, here are highlights for January:
* On January 10, AFLC Co-Founder and Senior Counsel Robert Muise attended yet another pretrial conference in the Genesee County (Michigan) Circuit Court in our case defending four Red Rose Rescuers who carried out a rescue at an abortion center in Flint, Michigan in June 2019.
The rescuers are charged with trespassing and with obstructing/resisting a police officer (a felony) for engaging in the time-honored practice of passive resistance.
A jury trial is scheduled (finally) for June 7, 2022, which is three years to the day of the rescue!
* On January 14, we filed a supplemental brief in the U.S. District Court for the Eastern District of Michigan in our lawsuit filed on behalf of Catholic Healthcare International (CHI) against Genoa Charter Township.
Previously, on December 10, the Sixth Circuit remanded (sent back down) our challenge to the district court's denial of our motion for a preliminary injunction.
We asked the federal court to enjoin Genoa Township's unlawful enforcement of its zoning ordinance against CHI—the Township is prohibiting CHI from using its private property for any organized religious worship.
In its remand, the Sixth Circuit instructed the lower court to reconsider the bases for its denial of our motion.  The district court ordered supplemental briefing.  Our brief was filed pursuant to that order.
* On January 17, we filed a First Amended Complaint against U.S. Attorney General Merrick Garland in our lawsuit challenging Garland's recently announced policy to criminalize public criticism of local school boards by parents.
Garland and his Department of Justice are treating the parents as if they were "domestic terrorists."
The lawsuit was filed in the U.S. District Court for the District of Columbia on behalf of a group of parents from Saline, Michigan, and Loudoun County, Virginia.
This past October, Attorney General Garland announced with public fanfare that he was calling upon the FBI and federal prosecutors to use the overwhelming power of the federal government's criminal justice system to target those parents who dare to publicly criticize the local school boards that are indoctrinating their children with progressive garbage disguised as school curricula.
We filed this lawsuit on October 19th in response to this Orwellian attack on the right to free speech.
Since our original filing, more disturbing facts have come to light.  For example, we learned that the Attorney General relied exclusively on the propaganda letter drafted by "progressive" members of the National School Boards Association ("NSBA"), which labeled the parents as "domestic terrorists."  This letter served as the genesis for the Attorney General's new policy.
We further learned that this letter, which was factually inaccurate, was actually orchestrated by the Biden Administration in order to create the pretext for the policy.
It also came to light that the FBI created a "threat tag" to aid in tracking and investigating parents who the Attorney General and his "progressive" allies consider a threat to school board officials.
And since we filed the original action, there have been reports that federal agents have been present at school board meetings.
The AG has until February 15 to respond to our new allegations.
* On January 23, AFLC celebrated its Tenth Anniversary!  We launched AFLC on January 23, 2012.  And since then, we have tirelessly fought for faith and freedom in courtrooms across the country, as well as in the public square.
We are proud of all that we have accomplished, but we know that there is much work to be done.  This fight for the soul of our nation is far from over.
* On January 24, we filed a motion for attorneys' fees in the U.S. District Court for the District of Minnesota in our successful lawsuit filed on behalf of Sally Ness.
The U.S. Court of Appeals for the Eighth Circuit recently awarded us over $24,000 in attorneys' fees for our successful appeal.  We are now seeking fees for our work in the trial court.
In this lawsuit, we alleged that government officials violated Ness's rights protected by the First and Fourteenth Amendments by threatening to enforce local and state laws against her for filming public information exposing various zoning and other violations committed by a local mosque and its associated school, both of which are located in Ness's neighborhood.
* During January, we began season 2 and produced three new episodes of our Podcast / Videocast series titled, "Faith and Freedom Fighters."  Please listen, subscribe, and pass the word!
* We are continuing to assist with challenges to the COVID-19 vaccine mandates and the many other tyrannical mandates imposed during this current "pandemic."
Thank you for your prayers and financial support.  We couldn't do what we do without them!