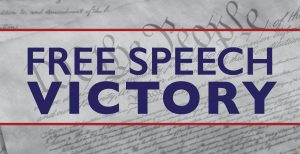 Last week (September 2, 2021), a federal appellate court ruled that the application of a Bloomington, Minnesota ordinance to forbid photographing children in City parks as part of a public controversy violated the First Amendment.
The U.S. Court of Appeals for the Eighth Circuit sided with our client, Sally Ness, who regularly photographed activities on city property to share her concerns about overuse of the neighborhood facility by a local mosque and its associated school.
AFLC Co-Founder and Senior Counsel Robert Muise, who argued the case on behalf of Ness, commented:
"According to the Left, if you publicly criticize Islam, it is called 'hate speech,' and if you exercise your First Amendment right to collect evidence of a mosque violating zoning and other laws via photographing and videotaping and expose this evidence to the public, you can be prosecuted for 'harassment.'  This ruling makes clear that the First Amendment does not permit such restrictions on the fundamental right to freedom of speech."
For many years, Ness has been documenting the public controversy surrounding the Dar al-Farooq mosque (DAF) and its associated school, the Success Academy, both of which are located in her neighborhood in the City of Bloomington, Minnesota.  Ness would often film zoning and other violations committed by DAF and the Success Academy that are disruptive to the neighborhood.  Ness would publicly disseminate this information via a blog and Facebook page.  She would also bring these violations to the attention of the City, which would largely ignore her concerns and the similar concerns of her neighbors.
In August 2019, City police officers confronted Ness and warned her that because people associated with DAF and the Success Academy felt "threatened" by her filming she should "stop" because she could be charged with harassment.
On October 28, 2019, the City, in an effort to appease DAF and Success Academy patrons who object to Ness's filming, passed a City ordinance providing that "No person shall intentionally take a photograph or otherwise record a child without the consent of the child's parent or guardian."  Because Ness sought to expose, among other violations, DAF's and the Success Academy's noncompliant and overuse of a local City park—a park in her neighborhood that she would often attempt to use with her grandchildren—her information gathering efforts include, quite necessarily, photographing and videotaping the use of the public park by children associated with DAF and the Success Academy.  There was no doubt that this newly minted and unusual City ordinance was directed at her.
Minnesota Attorney General Keith Ellison intervened in the lawsuit, arguing that Ness videotaped congregants at Dar Al-Farooq mosque without their consent, "causing those congregants and their children to feel intimidated and afraid."  Ellison asked the court to dismiss Ness' lawsuit.
A unanimous three-judge panel of the U.S. Court of Appeals for the Eighth Circuit sided with our client and struck down the ordinance as applied to Ness's First Amendment right to film.
The court ruled that that Ness' photo and video recording "is analogous to news gathering," and is therefore entitled to protection under the First Amendment, because "they are an important stage of the speech process that ends with the dissemination of information about a public controversy."
The court ruled that Ness' filming constituted speech protected by the First Amendment.  "If the act of making a photograph or recording is to facilitate speech that will follow," wrote the court, "the act is a step in the 'speech process,' and thus qualifies itself as speech protected by the First Amendment."
The court concluded that the challenged ordinance was "content-based" and therefore subject to strict scrutiny. Under that highest standard of constitutional scrutiny, the ordinance could only survive if it was narrowly tailored to serve a compelling government interest.
The court found that the City could not show that the ordinance was narrowly tailored to its articulated interest in "protecting children from intimidation or exploitation."  The court found that Ness sought to take her photographs and video in an effort to capture matters of public interest, and she had no intent to harass, intimidate, or exploit children.
As a result, the court ruled that the ordinance "is significantly over inclusive with respect to the City's asserted interest," and therefore, "fails strict scrutiny as applied to Ness's proposed conduct."
Numerous news agencies filed a "friend of the court" brief in the Eighth Circuit on behalf of Ness as they too realized the danger that this ordinance poses to the First Amendment.
Attachments