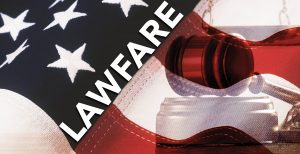 Yesterday, the American Freedom Law Center filed a First Amended Complaint against U.S. Attorney General Merrick Garland in its lawsuit challenging Garland's recently announced policy to criminalize public criticism of local school boards by parents.  Garland and his Department of Justice are treating the parents as if they were "domestic terrorists."
The lawsuit was filed in the U.S. District Court for the District of Columbia on behalf of a group of parents from Saline, Michigan, and Loudoun County, Virginia.
This past October, Attorney General Garland announced with public fanfare that he was calling upon the FBI and federal prosecutors to use the overwhelming power of the federal government's criminal justice system to target those parents who dare to publicly criticize the local school boards that are indoctrinating their children with progressive garbage disguised as school curricula.
We filed this lawsuit on October 19th in response to this Orwellian attack on the right to free speech.
Since our original filing, more disturbing facts have come to light.  For example, we know that the Attorney General relied exclusively on the propaganda letter drafted by "progressive" members of the National School Boards Association ("NSBA"), which labeled the parents as "domestic terrorists."  This letter served as the genesis for the Attorney General's new policy.
However, we learned that this letter, which was factually inaccurate, was actually orchestrated by the Biden Administration in order to create the pretext for the policy.
It also came to light that the FBI created a "threat tag" to aid in tracking and investigating parents who the Attorney General and his "progressive" allies consider a threat to school board officials.  An October 20, 2021 internal email from the FBI's criminal and counterterrorism divisions instructed agents to apply the threat tag "EDUOFFICIALS" to all investigations and assessments of alleged "threats" directed specifically at education officials.
This email also directs FBI agents to consider whether the activity being investigated violates federal law and what the potential "motivation" is behind it, demonstrating that the government will consider the viewpoints (i.e., "motivation") of those it is investigating as part of the Attorney General's policy.
And since we filed the original action, there have been reports that federal agents have been present at school board meetings.  In fact, it was reported that on October 21, 2021, federal agents in marked and unmarked vehicles were present at a school board meeting held in Fairfax, Virginia, causing further fear, intimidation, and a chilling effect on the free speech rights of parents and other concerned citizens who want to speak out against "progressive" school board policies.  A photograph of a marked Homeland Security vehicle present outside of this school board meeting began circulating on social media, and the story was covered by the national media as well.
The First Amended Complaint makes clear the relief that the parents (our clients, the plaintiffs) are seeking in this lawsuit.  As stated in the pleading:
"A judicial determination that the AG Policy violates the Constitution and federal statutory law as set forth in this First Amended Complaint would reassure Plaintiffs (as well as other similarly situated parents and concerned citizens) that they can freely participate in their constitutionally protected activities without being denigrated and labeled as a criminal threat or domestic terrorist by the government, appearing in government records as criminal threats or domestic terrorists, or being threatened by the government with investigation because their constitutionally protected activity is deemed threatening, harassing, or intimidating simply because public officials oppose the content and viewpoint of Plaintiffs' message."
In the lawsuit, we allege that the Attorney General's policy violates the First and Fifth Amendments to the U.S. Constitution and the Religious Freedom Restoration Act (RFRA).
RFRA is implicated because all of our clients are compelled by their sincerely held religious beliefs to raise and educate their children in accord with their faith and to strongly oppose policies and education programs in their children's schools that are antithetical and contrary to their faith, such as the CRT, transgender, and sex education policies and programs outlined in the First Amended Complaint.