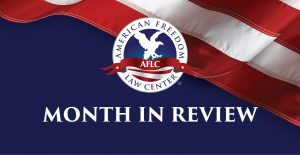 Here are highlights for March—an exceedingly busy month:
* On March 3, we filed a motion for limited attorneys fees in our case challenging one of Michigan Governor Gretchen Whitmer's earliest executive orders that imposed tyrannical restrictions on liberty.  The case is Beemer v. Whitmer.
On the eve of the hearing for an injunction, the Governor capitulated, changed her executive order, and entered into a stipulated order signed by the Court that protected the constitutional rights of the challengers.
Because this was a signed order by the district court that changed the "legal relationship" of the parties, we argue in our motion that we should be eligible for fees.
Our motion came soon after the district court dismissed the case on mootness grounds, claiming that the order has now been rescinded.  This is how many of the courts have tried to avoid ruling on these crucial issues.
However, we will not let this tyranny repeat itself.  So long as the challenged restrictions are "capable of repetition"—which they are—then the court must decide the case.
Consequently, we are appealing the dismissal of the case.  And our fee motion will proceed as well.
* On March 9, AFLC Co-Founder and Senior Counsel Robert Muise appeared before Sixth Circuit as co-counsel in the en banc (full court—17 judges) argument in our case challenging the mask mandate for K-5 students on behalf of Resurrection School and concerned parents and students.
We are co-counsel with the Great Lake Justice Center in this case.
* On March 10, Muise argued before a three-judge panel of the Sixth Circuit in our case challenging the draconian speech restrictions imposed by the City of Detroit during the 2019 Democratic Party Presidential Candidate Debates held at the Fox Theatre in Detroit.
* On March 11, we filed a federal civil rights lawsuit in the U.S. District Court for the District of Columbia (Washington, D.C.) on behalf of four Navy SEALs who object on religious grounds to the Biden administration's vaccine mandate.
We simultaneously filed a motion for the Navy SEALs to proceed in the case pseudonymously (i.e., using "Navy SEAL" instead of their actual names) to protect their identities for security reasons.  That motion was granted.
* On March 15, we filed our opposition to the motion to dismiss filed by Attorney General Merrick Garland in our lawsuit against the AG for weaponizing the DOJ to threaten parents who object at school board meetings to the indoctrination of their children with Left-wing propaganda such as Critical Race Theory (CRT), transgender policies, and pornographic sex education programs.
The lawsuit was filed on behalf of parents from Loudoun County, Virginia and Saline, Michigan.
* On March 18, we filed our notice of appeal to the U.S. Ninth Circuit Court of Appeals in our class action lawsuit filed on behalf of the named plaintiff Dr. Colleen Huber, a naturopathic medical doctor who dared to even cite to a news article suggesting that bad outcomes attributed to vaccines were being underreported in Israel.
Twitter permanently shuttered her Twitter account.
The evidence strongly suggests that Twitter was acting on behalf of the Biden administration and its "war" against any criticism of the government's vaccine policy when Twitter began censoring anti-vaccination speech.  Orwellian to say the least.
No surprise of course that the district court judge granted the motions to dismiss filed by President Biden and Twitter.  The judge is an Obama appointee and operates in San Francisco, Twitter's backyard.  This legal battle is not over by a longshot.
* On March 23, we filed our notice of appeal in the Beemer v. Whitmer case, challenging Governor Whitmer's most tyrannical executive order issued during the COVID pandemic.
* On March 25, we filed a motion for a preliminary injunction on behalf of Navy SEAL 4 in our lawsuit challenging the Biden administration's vaccine mandate.
Navy SEAL 4 recently received an adverse fitness report (a punitive report) and is facing separation proceedings, which prompted the filing of this motion.
* During March, we produced one new episode of our Videocast / Podcast series titled, "Faith and Freedom Fighters."  Please listen, subscribe, and pass the word!
Thank you for your prayers and financial support.  We couldn't do what we do without them!