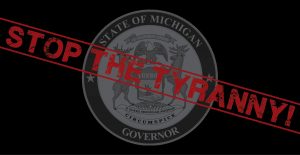 On April 15, 2020, the American Freedom Law Center filed a federal civil rights lawsuit against Michigan Governor Gretchen Whitmer and several county prosecutors, challenging certain provisions of Governor Whitmer's recent executive order, Executive Order 2020-42.
The lawsuit was filed in the U.S. District Court for the Western District of Michigan on behalf of three Michigan residents.  As stated in the lawsuit,
"The challenged measures of Executive Order 2020-42 . . . lack any rational basis, are arbitrary, capricious, and vague, have no real or substantial relation to the objectives of the order, and are beyond all question, a plain, palpable invasion of rights secured by fundamental law.  Consequently, it is the duty of this Court to so adjudge, and thereby give effect to the United States and Michigan Constitutions by declaring these measures unlawful and enjoining their enforcement."
The lawsuit alleges that various provisions of the Governor's latest executive order violate the First (freedom of association), Second (right to bear arms), and Fourteenth (due process and equal protection) Amendments to the U.S. Constitution, the Contracts Clause of the U.S. Constitution, and the Michigan Constitution's protection of the right to bear arms.
The case was assigned to the Honorable Paul L. Maloney.
CASE UPDATE (April 20, 2020): We filed an expedited motion for a Temporary Restraining Order (TRO) / preliminary injunction and brief in support.
CASE UPDATE (April 27, 2020): The Court entered a stipulated order granting all of the relief we requested in our TRO / preliminary injunction motion.
CASE UPDATE (April 28, 2020): We filed a First Amended Complaint.  The fight continues!
CASE UPDATE (June 15, 2020): We filed our response to the defendants' motions to dismiss.
CASE UPDATE (April 29, 2022): We filed our opening brief in the U.S. Court of Appeals for the Sixth Circuit, challenging the district court's order dismissing the case on mootness grounds.
Attachments