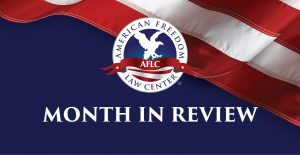 As we wrap up another busy year, here are highlights for December:
* On December 1, AFLC Co-Founder and Senior Counsel Robert Muise attended an event in Washington, D.C. for those attorneys and organizations that filed briefs in the Dobbs case, an important case that could overturn Roe v. Wade.  The Dobbs case was argued that day.
AFLC filed a "friend of the court" brief on behalf of Priests for Life, urging the Court to reverse the fateful Roe decision.
* On December 3, the U.S. Court of Appeals for the Eighth Circuit awarded us over $24,000 in attorneys' fees for our successful appeal in the Sally Ness case.
As you may recall, in this lawsuit, we alleged that government officials violated Ness's rights protected by the First and Fourteenth Amendments by threatening to enforce local and state laws against her for filming public information exposing various zoning and other violations committed by a local mosque and its associated school, both of which are located in Ness's neighborhood.
This fee award was just for the appeal.  We will be seeking attorneys' fees for our legal work in the district court as well.
* On December 10, the Sixth Circuit remanded (sent back down) our challenge to the district court's denial of our motion for a preliminary injunction.  We asked the federal court to preliminarily enjoin Genoa Township's unlawful enforcement of its zoning ordinance against Catholic Healthcare International, Inc. (CHI)—the Township is prohibiting CHI from using its private property for any organized religious worship.
In its remand, the Sixth Circuit instructed the lower court to reconsider the bases for its denial of our motion.
We are awaiting either a new order/opinion from the district court or a schedule for supplemental briefing.  If the injunction is denied yet again, we will appeal that denial as well.
*On December 13, Muise attended the Genoa Township Planning Commission Meeting on behalf of CHI, as part of CHI's ongoing battle to protect its right to use its private property for religious worship.
CHI submitted a new special land use application for just the prayer campus as the application for the entire project, which includes the St. Pio Chapel—the central feature of the project—is tied up in federal litigation.
The head of the Township's Planning Department and the Township's counsel urged this filing, which was costly for CHI.
Yet, shockingly, the Planning Commission refused to hear the matter, claiming that the application was too similar to the original submission!
CHI is preparing an appeal of the Planning Commission's administrative decision to the Zoning Board of Appeals in order to "ripen" this latest constitutional violation.
As you can see, these fights for religious liberty can be time consuming and complicated, but they are necessary not only for our clients, but for all freedom loving Americans!
* On December 19, we filed our opposition to President Biden's and Twitter's motion to dismiss our class action lawsuit filed on behalf of the named plaintiff Dr. Colleen Huber, a naturopathic medical doctor who dared to even cite to news articles suggesting that bad outcomes attributed to vaccines were being underreported in Israel.  Twitter permanently shut down her Twitter account.
The evidence strongly suggests that Twitter was acting on behalf of the Biden administration and its "war" against any criticism of the government's vaccine policy when Twitter began censoring anti-vaccination speech.  Orwellian to say the least.
* On December 20, we filed a supplemental brief in the Sixth Circuit, which previously granted en banc (full court) review, in our case challenging the mask mandate for K-12 students on behalf of Resurrection School, a Catholic School located in Michigan.
The full court will hear oral argument in this important case later this year.
We are co-counsel with the Great Lakes Justice Center.
* We are continuing to assist with challenges to the COVID-19 vaccine mandates and the many other tyrannical mandates imposed during this current "pandemic."
Thank you for your prayers and financial support.  We couldn't do what we do without them!