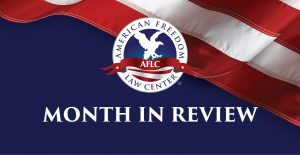 Here are the highlights for July:
* On July 5, we filed our response in opposition to the motion to dismiss filed by Pennsylvania Governor Tom Wolf, his Attorney General, and his Secretary of Health in our federal civil rights lawsuit challenging Pennsylvania's mask mandate, contact tracing program, and vaccine policy.
* On July 8, we completed service on Twitter in our lawsuit against the Biden administration, Twitter, and Twitter's CEO Jack Dorsey.  We had previously served President Biden.  The federal civil rights class action lawsuit alleges that Twitter is censoring speech critical of the administration's COVID-19 vaccination policy on behalf of the Biden administration in violation of the First Amendment to the U.S. Constitution.
* On July 8, we selected a jury in a case where we are defending four courageous Red Rose Rescuers who were criminally charged with trespassing at an abortion center in Grand Rapids, Michigan.  The case was scheduled to go to trial on July 21, but when the prosecution couldn't produce a key witness, the trial was adjourned.  We are preparing a motion to dismiss all charges with prejudice.  If that fails, we will be selecting a new jury on September 9 and going to trial on September 17.
We also filed a motion for jury instructions on the defense of others and the defense of necessity.  The court denied the motion.
* On July 14, we filed a First Amended Complaint in our federal civil rights lawsuit against Genoa Charter Township and the Township's Ordinance Officer.
In this lawsuit, we allege that the Township and its officials violated the U.S. Constitution, the Michigan Constitution, and the Religious Land Use and Institutionalized Persons Act (RLUIPA) when they denied a religious organization the right to build a modest chapel (St. Pio Chapel) and prayer campus on its 40 acre property located within the Township and when they demanded that the religious organization remove all religious symbols from its property, including the Stations of the Cross and an image of Santa Maria delle Grazie ("Our Lady of Grace").
* On July 28, we filed an amicus curiae (friend of the court) brief in the U.S. Supreme Court in the case of Dobbs v. Jackson Women's Health Organization, in which the Court agreed to decide "[w]hether all pre-viability prohibitions on elective abortions are unconstitutional."  The brief was filed on behalf of Priests for Life, and it urges the Court to reverse Roe v. Wade.
* On July 29, Twitter and its CEO Jack Dorsey agreed to pay the service of process costs to avoid our motion seeking costs in our federal class action law suit against Twitter, Dorsey, and the Biden administration.  Twitter and Dorsey had previously ignored our requests that they waive service of process to expedite matters and as a result, per the Federal Rules of Civil Procedure, we were entitled to file a motion and to force them to reimburse us.  Given the somewhat nominal service costs and the exorbitant fees charged by Twitter's lawyers at Perkins Coie, Twitter and Dorsey opted to avoid the legal fight.
* During the month of July, we produced three new episodes of our Videocast / Podcast series titled, "Faith and Freedom Fighters."  Please listen, subscribe, and pass the word!
* We are continuing to challenge the tyrannical COVID-19 restrictions, including the latest efforts to force American citizens to get injected with the dangerous and experimental vaccine.
Thank you for your prayers and financial support.  We couldn't do what we do without them!