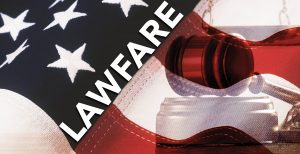 Here are our lawfare highlights for July 2022:
* On July 1, we filed a full-throated response to Genoa Township's defective and at times frivolous motion to dismiss our lawsuit filed against the Township on behalf of Catholic Healthcare International ("CHI") and its president, Jere Palazzolo.
In this case, CHI and Palazzolo are challenging the Township's denial of their right to use their private property for religious worship.
Not only did the Township unlawfully deny CHI's special land use application to construct a modest chapel and prayer campus on their rural 40-acre property, it is also preventing CHI from using the property for any religious gathering regardless of its size.
This is one of the most egregious attacks on religious liberty we have witnessed.  Zoning laws cannot be used as blunt instruments to prevent core First Amendment activity!
* On July 7, we filed our reply brief in the U.S. Court of Appeals for the Sixth Circuit in our lawsuit challenging the draconian executive orders issued by Michigan Governor Gretchen Witmer during the COVID-19 pandemic.
The challenged restrictions included, among others, a ban on family gatherings at private residence, a ban on travel between homes and lake cottages, the closing of some business such as gun stores/ranges (Second Amendment protected) and landscaping while allowing liquor stores, marijuana stores, pet stores, and abortion centers to remain open.
* On July 13, we filed a motion requesting jury instructions on the defense of others and necessity on behalf of pro-life rescuers who engaged in a recent Red Rose Rescue at an abortion center located in Southfield, Michigan.
In the motion, we argue:
Dobbs v Jackson Women's Health Organization is a game changer.  In Dobbs, the U.S. Supreme Court stated, unequivocally: "Roe was egregiously wrong from the start.  Its reasoning was exceptionally weak, and the decision has had damaging consequences."  Dobbs v Jackson Women's Health Org, No. 19-1392, slip Op at 6 (US June 24, 2022) (emphasis added).  In other words, there was never a legal basis or foundation for concluding that abortion was a right protected by the U.S. Constitution.  This Court cannot ignore this important precedent, particularly as it applies to the requested defenses, as we will explain further in this brief.
This is an important point because Michigan law recognizes the defense of others and the defense of necessity, and the Michigan Court of Appeals has applied the defense of others in a case involving the unborn outside of the abortion context.
The Michigan court of appeals has held that "the defense [of others] extend[s] to the protection of a fetus, viable or nonviable," but the court carved out an exception for "what the United States Supreme Court has held to constitute lawful abortions."  In light of Dobbs, we argue that this exception no longer applies.
The six rescuers are charged with four misdemeanor offenses (trespassing, resisting an officer, disturbing the peace, and loitering).
The court set the case for a jury trial to commence on October 11, 2022.
* On July 18, we filed a motion for bond pending appeal in our case defending four pro-life rescuers who were convicted in state court on June 29, 2022, for a rescue they did in Flint, Michigan in June 2019.
The rescuers were convicted of trespassing and disturbing the peace (misdemeanors) and resisting an officer (felony) for peacefully and passively resisting their arrests.  The felony charge was bogus, and the defense was not permitted to tell the jury that this offense was charged as a felony.
Sentencing is scheduled for September 23, 2022, and we intend to appeal multiple issues in this case.  Consequently, our motion asks the court to permit the pro-lifers to remain on personal recognizance bonds while the case works its way through the appellate process.
* On July 28, we filed our opening brief in the U.S. Court of Appeals for the D.C. Circuit (Washington, D.C.) in our appeal of the district court's denial of our motion for preliminary injunction filed on behalf of Navy SEAL 4.
This appeal is part of our larger lawsuit we filed on behalf of four Navy SEALs who are challenging the Biden administration's military vaccine mandate on religious grounds.
We sought a preliminary injunction on behalf of Navy SEAL 4 because he was facing imminent separation.  Fortunately, a Texas federal court issued a nationwide injunction that prohibits the separation.  However, Navy SEAL 4 still faces other punishment, thereby warranting the request for an injunction.