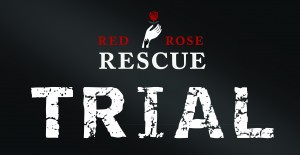 In December 2017, five courageous pro-life "rescuers" peacefully entered the waiting room of the Western Women's Center in West Bloomfield, Michigan, armed with red roses and a message of love and hope.  In the waiting room of this killing center were women and unborn babies who were in imminent harm from abortion.
The pro-lifers peacefully entered the abortion center.  They did not use any force.  They simply walked in.  They did not carry with them nor brandish any weapons.  They had red roses with cards attached to the stems containing a simple message stating,
"God is Love.  And He loves you and your unborn baby!  Don't be afraid.  Your life circumstances will change—and this baby will give you boundless joy!  Call the numbers on other side of this card.  Les us help you!  There is help for you and your baby."
On the back side of the card were numbers to various crisis pregnancy centers, pregnancy counselling centers, and organizations that help women in crisis pregnancies to choose life.
An employee at the abortion center called the police.  The police arrived and directed the pro-lifers to leave the premises.  The pro-lifers told the police that they would leave if they could assure them that no lives would be destroyed that day.  The police provided no assurance.
The pro-lifers passively resisted, a common tactic employed by civil rights activists, prompting their arrests.  The police handcuffed the pro-lifers and transported them to the police station for booking.  They were charged with trespassing and interfering with police authority.
In February 2018, a jury found the pro-lifers guilty.  They were sentenced to probation.  We are currently appealing the convictions.
In addition to probation, the district court judge ordered a restitution hearing, which was held this past Friday, June 29, 2018.
During the restitution hearing, the prosecutor presented the testimony of the abortion center's office manager, who testified and provided documentary evidence that 12 women who were scheduled for appointments (11 were scheduled for abortions and 1 was scheduled for a "post operative" procedure) were turned away by the actions of the pro-lifers.  In fact, none of the 12 would return the abortion center's calls—the center was desperately trying to reschedule the abortions.
As a result, the abortion center was seeking restitution in excess of $5,500 for "lost services" and another $1,500 for attorney's fees it incurred.
During the hearing, AFLC Co-Founder and Senior Counsel Robert Muise objected to the restitution request on factual and legal grounds.  Muise argued that the women could have turned away because they decided to "choose" life as opposed to abortion; therefore, this was not a recoverable harm.  And he argued that the specific request for lost profits and attorneys' fees was not warranted as a matter of law for this simple trespass case.
The judge agreed, denying the prosecutor's and the abortion center's request in total.
Muise commented,
"My clients were not going to pay a penny to these baby killers even if the judge did order restitution.  Thankfully, the judge followed the law and rejected the prosecutor's and the abortionist's frivolous request.  At the end of the day, the hearing was a great success because the abortionist had to admit under oath that many lives were rescued the day these courageous pro-lifers entered the abortion center waiting room.  Mission accomplished."
Attachments