On September 20, 2012, the American Freedom Law Center (AFLC) filed a federal civil rights lawsuit in the United States District Court for the District of Columbia against the Washington Metropolitan Area Transit Authority (WMATA) for their decision to delay running a pro-Israel/anti-jihad advertisement on its Metro system until some unknown "future date".  The lawsuit, which was filed on behalf of the advertisement's sponsors, Freedom Defense Initiative (FDI), and its executive directors, Pamela Geller and Robert Spencer, challenges the WMATA's unconstitutional restriction on FDI's right to engage in protected speech in a public forum.
By policy and practice, the WMATA has leased advertising space in its Metro system for a wide variety of commercial, noncommercial, public-service, public-issue, political, and religious advertisements. As such, the WMATA has permitted political and social commentary advertisements covering a broad spectrum of political views and ideas.  For example, the  WMATA leased its advertising space for a pro-Palestine advertisement, which displayed the anti-Israel message: "End U.S. military aid to Israel".
In response to the pro-Palestine advertisement, FDI entered into a contract with CBS Outdoor (the advertising agent for WMATA) on September 6, 2012 to place the pro-Israel Advertisement on four dioramas in area subways from September 24, 2012 to October 21, 2012.   At the time of the contract, the advertisement was approved for display and it satisfied all of the WMATA's guidelines.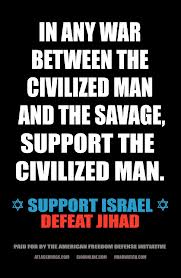 The planned advertisement stated, "In Any War Between the Civilized Man and the Savage, Support the Civilized Man.  Support Israel.  Defeat Jihad."
However, the WMATA, while citing "world events" (i.e., the September 2012 violent uprisings in the Middle-East caused by Muslims who claimed to be angered by a YouTube video critical of Islam), refused to run the pro-Israel/anti-jihad advertisement out of concern  for the "security and safety" of its passengers.
As a result, AFLC promptly filed its federal lawsuit, which argues that the WMATA's speech restriction, which is censoring FDI's core political speech on the basis of its viewpoint, is based on the perceived negative response that FDI message might receive from certain viewers, most likely from Muslims.
UPDATE (October 1, 2012): AFLC Senior Counsel Robert Muise filed the plaintiffs' reply in support of a motion for a preliminary injunction. You can read the brief here.
UPDATE (October 5, 2012): Federal Judge Rosemary M. Collyer granted AFLC's request for a preliminary injunction. You can read the order here.
UPDATE (October 12, 2012): Court issues final decision in AFLC's favor.  You can read the court's opinion here.
Attachments