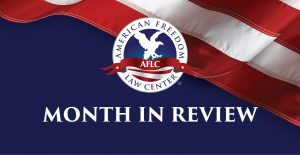 Here are the highlights for September:
* On September 11, the U.S. Court of Appeals for the Sixth Circuit handed us a significant victory for religious liberty, unanimously ruling (3-0) that our clients, Catholic Healthcare International, Inc. (CHI) and its president, were entitled to a preliminary injunction, permitting them to restore stations of the cross, a mural of Our Lady of Grace, and an altar on their 40-acre property located in Genoa Township, Michigan.
The Township had previously ordered the removal of the religious symbols.
The Sixth Circuit also affirmed that CHI could engage in religious worship ("organized gatherings") on this property.
This ruling garnered a fair share of favorable media coverage.  Below are a few examples:
* On September 22, AFLC Co-Founder and Senior Counsel Robert Muise presented oral argument before a three-judge panel of the U.S. Court of Appeals for the D.C. Circuit (Washington, D.C.).
This appeal involves our lawsuit filed against Attorney General Merrick Garland on behalf of parents from Loudoun County, Virginia and Michigan—parents who are targeted by the Department of Justice as "domestic terrorist" for speaking out at school board meetings.
As expected, the panel was hostile toward our case.  As you may recall, before being appointed Attorney General, Merrick Garland was a judge in this very court.
You can listen to the argument here.
An opinion will likely issue within the next few months.
* On September 27, we argued our second motion to join the appeals of the six Red Rose Rescuers who engaged in a pro-life rescue in the City of Southfield, Michigan on April 23, 2022.
A jury trial was held in February 2023, and the six pro-life rescuers were found guilty of trespass and resisting/obstructing a police officer.
Four of the rescuers were found guilty of interfering with a business/disturbing the peace and two were found not guilty of this offense.
Prior to trial and after we filed a motion to dismiss the "loitering" charge on constitutional grounds, the City prosecutor dismissed that charge for all six of the rescuers.
Remarkably, the appellate court, which is the Circuit Court for Oakland County as we are appealing misdemeanor convictions from the District Court, continues refuse to consolidate the cases even though all six rescuers were tried together and all of the issues are similar.
As a result, we now have six separate oral arguments scheduled before five judges.  The arguments will be held throughout the months of October and November.
Our appeals raise constitutional issues as well as the issue of whether the District Court erred by denying our requests for jury instructions on the defense of others and necessity.
* Throughout this month, we were fully engaged in various discovery disputes—filing responses and replies to motions—in the remarkable custody case involving "Baby Doe."  You can read more about this incredible case here.
* We are also working on two major cases that will have significant impacts.  One case will be filed in California and the other will be filed in Michigan.  We will report on those cases at the appropriate time as the information is still confidential!
Thank you for your prayers and financial support.  We couldn't do what we do without them!