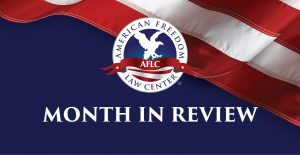 Here are highlights for November:
* On November 3, we filed an application for leave to appeal to the Michigan Supreme Court in our ongoing legal battle for religious freedom on behalf of Catholic Healthcare International (CHI).
Genoa Township (Michigan) convinced a local state court judge to order CHI to cleanse its 40-acre, rural property of religious symbols and to prohibit CHI from using this property for any organized religious worship.
The state court judge allowed the enforcement of the Township's zoning ordinance to trump fundamental rights secured by, inter alia, the Michigan Constitution.
The Michigan Court of Appeals refused to hear our appeal of this temporary injunction, so we are seeking review in the Michigan Supreme Court.
* On November 11, we filed our opening brief in the U.S. Court of Appeals for the Third Circuit (Philadelphia) in one of our many cases challenging the draconian COVID-19 restrictions.
This case is a challenge to the mask mandate and contact tracing programs instituted by the Pennsylvania governor and his department of health.
* On November 14, we secured a free speech victory for pro-life demonstrators in Michigan!
In October, we filed a federal civil rights lawsuit against the City of Eastpointe, Michigan and two of its officials for violating the civil rights of pro-life activists who protest abortion on the public sidewalk at the Eastland Women's Clinic, an abortion center located in the City.
Shortly after filing the lawsuit and during a meeting with the City attorney, the City agreed to dismiss all criminal charges against the pro-lifers with prejudice and to issue official policy guidance to the City's police officers to stop enforcing the City sign ordinance against the pro-lifers for peacefully holding signs outside of the abortion center.
In other words, through the filing of this lawsuit, we accomplished our objectives and defended, yet again, the fundamental right to free speech.  We voluntarily dismissed the lawsuit without prejudice, having achieved yet another lawfare victory!
*On November 17 and 18, we filed multiple motions in a pro-life rescue case that is scheduled for trial on December 13.  One of the motions sought to dismiss two of the four charges brought against the pro-lifers.  The prosecutor agreed in part with our motion and dismissed the loitering charge.
The pro-lifers were involved in a rescue at an abortion center in Southfield, Michigan on April 23, 2022.  The six rescuers will stand trial on three charges: trespassing, interference with a business, and resisting/obstructing a police officer.
* On November 18, the court held a sentencing hearing for four pro-life rescuers who were unjustly convicted of a felony offense for their peaceful rescue at an abortion center in Flint, Michigan in 2019.
Each rescuer was sentenced to 45 days in jail.
We are preparing our appeal in this case, which raises many important constitutional issues.
* On November 22, we filed a reply in support of our second motion to expedite the court's ruling on our request for a preliminary injunction in the CHI case.
As noted, CHI is trying to develop a prayer campus with a small adoration chapel on its 40-acre property located in Genoa Township, Michigan.
Not only has the Township denied CHI's special land use application, it ordered CHI to remove all religious symbols/displays from the property and to cease using the property for any religious worship ("organized gatherings").
We have a pending motion for a preliminary injunction, which was appealed once to the Sixth Circuit (the appellate court remanded for further consideration by the lower court) and has been sitting with the district court since December 2021.
This is our second request to the court to expedite its ruling as the case law is clear that even the momentary loss of First Amendment freedoms constitutes irreparable harm sufficient to warrant an injunction.  And if the court denies our motion for an injunction, we can file an immediate appeal to the Sixth Circuit.  The court's delay is causing real harm.
* On November 30, the federal court held a hearing in our CHI case on the Township's motion to dismiss.  As noted, the court is taking up the Township's motion (which was filed nearly nine months after our motion for a preliminary injunction), but is ignoring our request for injunctive relief.
The Township's motion is baseless, and if the court grants it, we will immediately appeal that order.
The Township's actions plainly violate federal statutory (Religious Land Use and Institutionalized Persons Act) and constitutional (First and Fourteenth Amendments) law.
* We're back!  With the purchase of Twitter by Elon Musk and his pledge to stop the censorship of conservative voices, AFLC has once again joined Twitter.  You can find us at @aflc_freedomlaw.  Please follow!
Thank you for your prayers and financial support.  We couldn't do what we do without them!