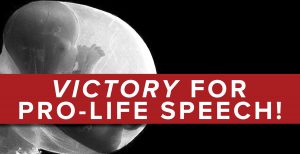 On October 20, 2022, the American Freedom Law Center (AFLC) filed a federal civil rights lawsuit against the City of Eastpointe, Michigan and two of its officials for violating the civil rights of pro-life activists who protest abortion on the public sidewalk at the Eastland Women's Clinic, an abortion center located in the City.
The lawsuit was filed on behalf of Jeffrey and Cydney Domsic, pro-life activists who wanted to engage in constitutionally protected speech at the abortion center but were prevented from doing so because the City and its police officers unlawfully targeted pro-life activists with criminal citations.
The controversy between pro-life activists and City police officers came to a head on October 1, 2022, when officers issued multiple criminal citations to pro-lifers for holding anti-abortion signs on the public sidewalk outside of the Eastland abortion center.
The pro-life activists were not obstructing anyone with their signs; they stood to the side of the sidewalk to allow pedestrian access.  Nonetheless, the City police officers issued criminal citations for violating the City's sign ordinance.  A violation of the ordinance is a misdemeanor, which carries criminal penalties, including a $500 fine and imprisonment for up to 90 days.
AFLC's lawsuit sought a declaration that the City's actions were unconstitutional and an order enjoining (halting) the unlawful targeting of pro-lifers with criminal citations for engaging in activity protected by the First Amendment.
Shortly after the lawsuit was served, AFLC Co-Founder and Senior Counsel Robert Muise held a "meet and confer" (a court requirement prior to filing a motion) with the City attorney to discuss the pro-lifers' proposed motion for a temporary restraining order (TRO) against the City and its police officers.
Through the TRO, AFLC was seeking to immediately halt the unlawful enforcement of the City's sign ordinance against pro-lifers while the case proceeded.
During the meeting, the City attorney agreed to dismiss all criminal charges against the pro-lifers with prejudice and to issue official policy guidance to the City's police officers to stop enforcing the City sign ordinance against the pro-lifers for peacefully holding signs outside of the abortion center.
In other words, through the filing of this lawsuit, we accomplished our objectives and defended, yet again, the fundamental right to free speech.  We voluntarily dismissed the lawsuit without prejudice, having achieved yet another lawfare victory!
AFLC Co-Founder and Senior Counsel Robert Muise commented:
"With Michigan becoming an abortion-on-demand state following the passage of  Proposal 3–an amendment to the Michigan Constitution that will cause terrible harm to women and others due to its extreme measures–it is exceedingly important that the voices of those seeking to protect women and unborn babies from the violent harm of abortion remain loud and strong.  We accomplished that here, and we will continue to fight for the fundamental right to free speech, particularly for those who speak out against the grave and harmful injustice of abortion."