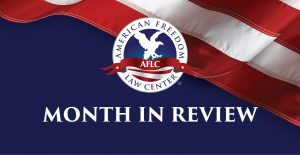 Here are highlights for February:
*On February 4, AFLC Co-Founder and Senior Counsel David Yerushalmi appeared via Zoom before the U.S. District Court for the Northern District of California for the hearing on Defendants Twitter and President Biden's motion to dismiss our class action lawsuit filed on behalf of the named plaintiff Dr. Colleen Huber, a naturopathic medical doctor who dared to even cite to news articles suggesting that bad outcomes attributed to vaccines were being underreported in Israel.
Twitter permanently shut down her Twitter account.
The evidence strongly suggests that Twitter was acting on behalf of the Biden administration and its "war" against any criticism of the government's vaccine policy when Twitter began censoring anti-vaccination speech.  Orwellian to say the least.
* On February 4, we filed our opening brief and appendix in the Second Circuit in our case challenging the New York governor's and New York City mayor's COVID-19 restrictions on outdoor First Amendment protests.
While Cuomo is no longer governor, de Blasio is no longer mayor, and the restrictions have since been lifted, the case will proceed because their replacements are free to reimpose such restrictions, but more importantly, the public has an interest in determining whether such restrictions are constitutional.
This has been the government's modus operandi from the beginning: impose a draconian restriction and when sued, change the restriction and ask the court to dismiss the case because it is "moot."
These tyrannical government officials continuously move the "goal posts" to avoid rulings and in the hope that the challengers will give up.  We won't give up.  We will continue to fight this tyranny that we have been under for the past two years.  This can never happen again in America!
* During this month, we had a flurry of activity in our case challenging a government-imposed mask mandate on K-12 students.  In this case, we are representing Resurrection School, a Catholic school located in Michigan, that opposes the mandate.  We are co-counsel in this case with the Great Lakes Justice Center.
On February 8, we filed a supplemental reply brief in the Sixth Circuit, which granted en banc review of the first denial of our request for a preliminary injunction.
On February 11, we filed a supplemental brief in the U.S. District Court for the Western District of Michigan in support of a second request for a preliminary injunction filed following the issuance of a new order and a remand from the Sixth Circuit.
On February 17, the district court held a hearing on the preliminary injunction.
* During this month, we also had a flurry of filings in our cases defending Catholic Healthcare International's (CHI) right to use its 40-acre property in Genoa Township, Michigan for religious purposes.
We filed a federal civil rights lawsuit against the Township on June 2, 2021, challenging the Township's denial of CHI's request to build a modest chapel (St. Pio Adoration Chapel) and prayer campus on this property.
On September 17, 2021, the Township sued CHI in state court, asking the court to issue an order requiring CHI to remove the Stations of the Cross, a mural wall with Our Lady of Grace, and a small altar from the property because they were a public "nuisance" and to prevent CHI from using the property for "organized gatherings."  The court rubberstamped an ex parte TRO to that effect (i.e., it was "one-sided"—meaning, we did not get a chance to respond before it was issued . . . we are still trying to get it dissolved).
Previously, on December 10, the Sixth Circuit remanded (sent back down) our appeal of the federal district court's denial of our motion for a preliminary injunction.
We asked the federal court to enjoin the Township's unlawful enforcement of its zoning ordinance against CHI while this case proceeds.
In its remand, the Sixth Circuit instructed the lower court to reconsider the bases for its denial of our motion.  The district court ordered supplemental briefing (the judge gave us 8 days and the Township 22 days to file).  We filed our brief in January.
Upon receipt of the Township's brief, we filed a motion for leave to file a reply brief and a reply in support of that motion as the Township opposed it.  These briefs were filed February 3 and 22 respectively.
On February 17, we filed a motion for leave to file a supplemental pleading in the federal court case outlining all of the harm caused by the Township since our original complaint was filed last June.
Finally, on February 24, we filed a motion for summary disposition, seeking dismissal of the state court case.
The battle rages on!
* During February, we produced three new episodes of our Videocast / Podcast series titled, "Faith and Freedom Fighters."  Please listen, subscribe, and pass the word!
* We are continuing to challenge COVID-19 vaccine mandates—keep an eye out for some breaking news in this regard—and the many other tyrannical mandates imposed during this current "pandemic."
Thank you for your prayers and financial support.  We couldn't do what we do without them!