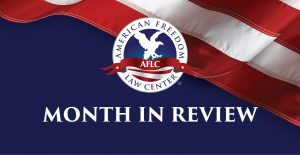 Here are the highlights for June:
* On June 2, we filed a federal civil rights lawsuit against Genoa Charter Township and the Township's Ordinance Officer.
In this lawsuit, we allege that the Township and its officials violated the First and Fourteenth Amendments to the U.S. Constitution, the Michigan Constitution, and the Religious Land Use and Institutionalized Persons Act (RLUIPA) when they denied a religious organization the right to build a modest chapel (St. Pio Chapel) and prayer campus on its 40 acre property located within the Township and when they demanded that the religious organization remove all religious symbols from its property, including the Stations of the Cross and an image of Santa Maria delle Grazie ("Our Lady of Grace").
The lawsuit was filed in the U.S. District Court for the Eastern District of Michigan on behalf of Catholic Healthcare International (CHI) and its President, Jere Palazzolo.
* On June 3, AFLC served the summons and complaint on President Biden in the lawsuit alleging that the Biden administration and Twitter conspired to deprive AFLC's client, Dr. Colleen Huber, of her First Amendment rights by permanently censoring her Twitter account for posting a news article critical of the Covid-19 vaccines.
* On June 10, AFLC Co-Founder and Senior Counsel Robert Muise had a conference with the court in Grand Rapids to set a trial schedule for the four pro-lifers that AFLC is representing in a case involving an alleged criminal trespass at an abortion center in Grand Rapids, Michigan.
Jury selection is scheduled for July 8, and the trial is scheduled for July 21.
* On June 29, 2021, Muise filed a motion and brief in support of his pro-life clients' request for jury instructions on the defense of others and the defense of necessity in their trial for allegedly trespassing at an abortion center in Grand Rapids.  A hearing on the motion is scheduled for July 14.
* During the month of June, we produced two new episodes of our Videocast / Podcast series titled, "Faith and Freedom Fighters."  Please listen, subscribe, and pass the word!
Thank you for your prayers and financial support.  We couldn't do what we do without them!
Attachments