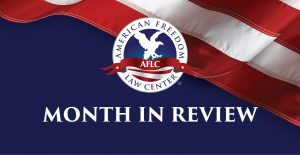 Here are the highlights for May:
* On May 12, AFLC Co-Founder and Senior Counsel Robert Muise participated in oral argument before a three-judge panel of the U.S. Court of Appeals for the Eighth Circuit in our case filed on behalf of Sally Ness.
In this lawsuit, we allege that the City of Bloomington, two City police officers, and the Hennepin County Attorney violated Ness's rights protected by the First and Fourteenth Amendments by threatening to enforce local and state laws against her for peacefully filming public information exposing various zoning and other violations committed by a local mosque and its associated school, both of which are located in Ness's neighborhood.
* On May 19, we had our first court appearance in our defense of 5 Red Rose Rescuers who were arrested and charged with trespassing for handing out literature and red roses at an abortion center in Grand Rapids, Michigan.
The rescuers were at the abortion center to defend mothers and their unborn children from the violence of abortion.
Jury selection is tentatively scheduled for July 8, with a trial tentatively to begin on either July 15 or July 21.
* On May 20, Muise gave a presentation to "Men-on-Fire," a Catholic men's group that meets regularly at Holy Spirit Catholic Church in Brighton, Michigan.
The topic of Muise's presentation was "Fighting the Culture War."
* On May 25, we filed a First Amended Complaint in our civil rights lawsuit against Pennsylvania Governor Tom Wolf, the Pennsylvania Attorney General, and the Secretary of Health for the Pennsylvania Department of Health.
The amended pleading includes additional factual and legal allegations, including allegations related to the COVID-19 vaccines and the government's efforts to coerce people into getting these novel, and in many respects experimental, vaccines.
* On May 28, 2021, we filed a federal class action lawsuit against President Biden, Twitter, and Twitter CEO Jack Dorsey, alleging that Twitter is censoring speech critical of the administration's COVID-19 vaccination policy on behalf of the Biden administration in violation of the First Amendment to the U.S. Constitution.
The lawsuit was filed in the U.S. District Court for the District of Arizona on behalf of the named plaintiff, Dr. Colleen Huber, a well-respected and licensed naturopathic medical doctor in Arizona.
After posting a "tweet" on her Twitter account from a well-known Israeli newspaper reporting on findings of mortality rates relating to the COVID-19 vaccinations used in Israel, Twitter permanently suspended Dr. Huber for purportedly violating Twitter's COVID-19 Policy.
As the complaint alleges, Twitter is in reality enforcing the Biden administration's policy to silence anyone critical of COVID-19 vaccinations.
* During the month of May, we produced three new episodes of our Videocast / Podcast series titled, "Faith and Freedom Fighters."  Please listen, subscribe, and pass the word!
Thank you for your prayers and financial support.  We couldn't do what we do without them!