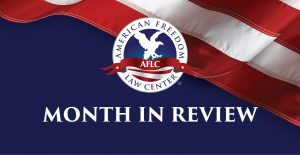 April was mostly a month of preparation—preparation for potentially two new federal lawsuits involving social media censorship (Twitter and Facebook) and the Biden administration.  Stay tuned for more on that!
* On April 5, we filed our reply brief in the U.S. Court of Appeals for the Third Circuit in our civil rights lawsuit against Pennsylvania Governor Tom Wolf, the Pennsylvania Attorney General, and the Secretary of Health for the Pennsylvania Department of Health.
Our lawsuit seeks to halt Pennsylvania's draconian contract tracing program and mask mandate.
The district court denied our motion for preliminary injunction, so we immediately appealed that decision to the Third Circuit.
The filing of our reply brief completes the briefing.  We are awaiting oral argument.
* On April 9, we were notified that oral argument in our case filed on behalf of Sally Ness will be held by a three-judge panel of the U.S. Court of Appeals for the Eighth Circuit on May 12.
In this lawsuit, we allege that the City of Bloomington, two City police officers, and the Hennepin County Attorney violated Ness's rights protected by the First and Fourteenth Amendments by threatening to enforce local and state laws against her for peacefully filming public information exposing various zoning and other violations committed by a local mosque and its associated school, both of which are located in Ness's neighborhood.
*On April 26, we had yet another status conference with the court in our defense of the Red Rose Rescuers who are charged with a bogus felony offense for peacefully entering an abortion mill in Flint, Michigan in June 2019.
Due to the backlog of cases caused by COVID-19, we still don't have a trial date.  The next conference with the court is scheduled for July 19.
* During the month of April, we produced three new episodes of our Videocast/Podcast series titled, "Faith and Freedom Fighters."  Please listen, subscribe, and pass the word!
Thank you for your prayers and financial support.  We couldn't do what we do without them!