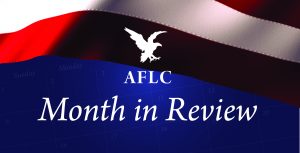 Due to the tyrannical response to COVID-19 by some Governors, we have been exceedingly busy this month.  Here are the highlights:
* On April 1, we filed a civil rights lawsuit against Michigan Governor Gretchen Whitmer and the City of Detroit, challenging the constitutionality of the Governor's Executive Order 2020-21 ("Shelter in Place" order) as applied to criminalize the free speech activity of peaceful, pro-life protestors.
On March 24, Governor Whitmer issued the Executive Order in the wake of the coronavirus pandemic.
While most businesses were forced to shut down as a result, the Governor refused to order abortion centers to close even though abortion is an elective procedure, it is never necessary to protect the life of a mother, and it results in the death of an unborn child, which is contrary to the stated goal of the Executive Order "to sustain or protect life."
On March 31, one of our clients was preaching, holding a pro-life sign, and practicing social distancing while he was on the public sidewalk outside of the Scotsdale Women's Center, which is an abortion center located in Detroit.
While he was exercising his First Amendment rights, eight Detroit police vehicles and fifteen Detroit police officers arrived.
The police issued our client a criminal citation (misdemeanor) for violating the Executive Order, prompting our lawsuit.
Indeed, under the challenged Executive Order, an individual could use the very same sidewalk to walk, hike, run, cycle, walk his dog, or engage in other similar recreational activity without receiving a criminal citation for doing so.  This our Constitution does not permit.
*On April 14, the presiding federal judge in our lawsuit against Governor Whitmer signed a stipulated order that (1) protects the pro-lifers' First Amendment rights from infringement by the Governor's executive orders and (2) dismisses the criminal citation against our client.
The judge's order favorably resolved all of our claims, ending the case.
This was a clear victory for our clients' rights to freedom of speech and free exercise of religion guaranteed by the First Amendment.
Indeed, it forced the Governor to admit that her Executive Order does not prohibit outdoor, First Amendment activity.  Consequently, on April 15, thousands of Michigan residents exercised their First Amendment right to protest the Governor's tyranny outside of the State Capitol in Lansing, Michigan.
* On April 15, we filed a second federal civil rights lawsuit against Governor Whitmer, challenging her revised Executive Order.
As stated in our lawsuit,
"The challenged measures of Executive Order 2020-42 . . . lack any rational basis, are arbitrary, capricious, and vague, have no real or substantial relation to the objectives of the order, and are beyond all question, a plain, palpable invasion of rights secured by fundamental law.  Consequently, it is the duty of this Court to so adjudge, and thereby give effect to the United States and Michigan Constitutions by declaring these measures unlawful and enjoining their enforcement."
The lawsuit alleges that various provisions of the Governor's latest Executive Order violate the First (freedom of association), Second (right to bear arms), and Fourteenth (due process and equal protection) Amendments to the U.S. Constitution, and the Michigan Constitution's protection of the right to bear arms.
As John Adams warned, "But a Constitution of Government once changed from Freedom, can never be restored.  Liberty once lost is lost forever."
We cannot sit on our hands as our government officials engage in a form of tyranny that is robbing us of our fundamental freedoms.
We cannot risk losing our liberty during this time of crisis.  If we don't stop this now, we fear that it will become the "new norm."
* On April 20, we filed an expedited motion for a Temporary Restraining Order (TRO)/preliminary injunction, seeking to immediately halt the Executive Order restrictions we are challenging in our second lawsuit against Governor Whitmer.
* On April 25, we filed a reply  brief in support of our motion for summary judgment in the lawsuit we filed on behalf of Sally Ness, who was threatened with prosecution under the Minnesota harassment statute for filming a local mosque.  Filming is protected by the First Amendment.
For many years, Ness has been documenting the public controversy surrounding the Dar al-Farooq mosque (DAF) and its associated school, the Success Academy, both of which are located in her neighborhood in the City of Bloomington, Minnesota.
Ness would often film zoning and other violations committed by DAF and the Success Academy that are disruptive to the neighborhood.  Ness would publicly disseminate this information via a blog and Facebook page.  She would also bring these violations to the attention of the City, which would largely ignore her concerns and the similar concerns of her neighbors.
The Minnesota Attorney General Keith Ellison, a Muslim Brotherhood sympathizer, intervened in the lawsuit, seeking to uphold the constitutionality of the Minnesota criminal law, arguing that it can validly prohibit Ness's filming, which he described as "video harassment."
A hearing on the motion is set for May 13 in federal court in Minnesota.
* On April 27, the federal judge presiding in our  secondt lawsuit against Governor Whitmer signed a stipulated order granting all of the relief we requested in our expedited motion for a TRO/preliminary injunction.
As noted, this is the second time we had to file a lawsuit to force the Governor's hand and to cause her to backtrack on her draconian executive orders.
Here, just days before the hearing on our motion, the Governor once again blinked and released a new Executive Order that her attorneys agreed in a court filing grants the relief we were requesting in our motion.  And while this new order does remedy the immediate harm, it does not end our lawsuit.
In fact, on April 28, we filed an amended complaint to keep the case and controversy alive!
It has been said that all tyranny needs to gain a foothold is for people of good conscience to remain silent.  During this current pandemic, we will not remain silent; we will remain vigilant!
* As always, we have several other important cases in the works!  We must be vigilant and persistent in our fight for faith and freedom!
Thank you for your prayers and financial support.  We couldn't do what we do without them!