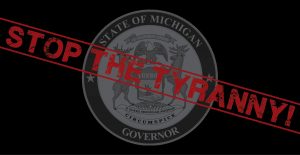 (Lansing, MI) – Today, the American Freedom Law Center, a national public interest law firm, filed a federal civil rights lawsuit against Michigan Governor Gretchen Whitmer and several county prosecutors, challenging certain provisions of Governor Whitmer's recent executive order, Executive Order 2020-42.
The lawsuit was filed in the U.S. District Court for the Western District of Michigan on behalf of three Michigan residents.  As stated in the lawsuit,
"The challenged measures of Executive Order 2020-42 . . . lack any rational basis, are arbitrary, capricious, and vague, have no real or substantial relation to the objectives of the order, and are beyond all question, a plain, palpable invasion of rights secured by fundamental law.  Consequently, it is the duty of this Court to so adjudge, and thereby give effect to the United States and Michigan Constitutions by declaring these measures unlawful and enjoining their enforcement."
The lawsuit alleges that various provisions of the Governor's latest executive order violate the First (freedom of association), Second (right to bear arms), and Fourteenth (due process and equal protection) Amendments to the U.S. Constitution, the Contracts Clause of the U.S. Constitution, and the Michigan Constitution's protection of the right to bear arms.
AFLC Co-Founder and Senior Counsel, Robert Muise, who is also a named plaintiff in the case, commented:
"Our lawsuit begins by quoting from John Adams, who warned, 'But a Constitution of Government once changed from Freedom, can never be restored.  Liberty once lost is lost forever.'  We cannot sit on our hands as our government officials engage in a form of tyranny that is robbing us of our fundamental freedoms.  The United States is a great nation.  Americans love freedom and despise tyranny.  We cannot risk losing our liberty during this time of crisis.  If we don't stop this now, I fear that it will become the 'new norm.'"
AFLC Co-Founder and Senior Counsel David Yerushalmi added:
"It has been said that all tyranny needs to gain a foothold is for people of good conscience to remain silent.  We have heard progressive political leaders claim that they can never let a good crisis go to waste.  They are certainly using this crisis to exert power over us.  We pledge to fight back, and we are doing so here.  Freedom loving Americans cannot let this crisis lay waste to our Constitution."
Attachments