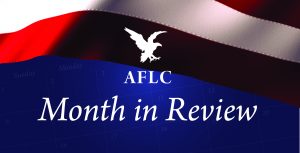 As we complete our eighth year at AFLC, and look forward to another successful year in 2020, we present to you our highlights for a very busy December:
* On December 6, AFLC Co-Founder and Senior Counsel David Yerushalmi argued our motion for attorneys' fees in the California Superior Court.  Our request for attorneys' fees came as a result of our important free speech victory in the California Court of Appeals this past July.  The superior court judge was intending to deny us a substantial portion of our fees and costs based on procedural rules.  But when we showed the judge his errors, he agreed with us and reset the hearing for February for reconsideration of our motion.  The judge also instructed the parties to try and negotiate a settlement agreement on the fees.  All good news!
* On December 9, we filed a petition for writ of certiorari in the U.S. Supreme Court, asking the high court to grant review in our case challenging an illegal mosque in the City of Sterling Heights, Michigan.  Our petition presents two critical questions for the Court's review:
Does a city council rule prohibiting private citizens from making disparaging comments about religion when speaking during the public comment period of a council meeting convened for the purpose of deciding whether to permit the construction of a mosque via a consent decree violate the First Amendment?
Can a city council enter into a consent decree in federal court that fails to comply with local and state zoning laws when the consent decree was not necessary to rectify the violation of federal law?
* On December 13, AFLC Co-Founder and Senior Counsel Robert Muise argued before a three-judge panel in the U.S. Court of Appeals for the Sixth Circuit in our case challenging a Michigan-based government transit authority's rejection of our clients' "Leaving Islam" bus ad on First Amendment grounds.  In light of the panel's questioning, we are hopefully optimistic that we will prevail!
* On December 19, we filed a petition for rehearing en banc in the U.S. Court of Appeals for the Sixth Circuit, asking the full court to rehear an important First Amendment case involving the unlawful arrest of a pro-life demonstrator based on a false claim by an abortion center security guard that she made a bomb threat.
The three-judge panel made an egregious error by not concluding that our client's speech was fully protected by the First Amendment.  Accordingly, the panel should have concluded that her arrest was unlawful as a matter of law.  Instead, the panel ruled in favor of the arresting officers.  Full court review is warranted.
* On December 19, Muise attended a case management conference with the presiding judge in our lawsuit filed against the City of Detroit on behalf of Created Equal, a pro-life group whose First Amendment rights were violated by the City and several of its police officers when the pro-lifers attempted to protest the pro-abortion policies of the Democrat presidential candidates during the debates held at the Fox Theatre in Detroit last July.
* On December 27, we filed a First Amended Complaint in our lawsuit against the City of Tulsa, Oklahoma, and its chief of police on behalf of Wayne Brown, a former Tulsa police officer who was fired based on Facebook posts he allegedly made over three years prior to his hiring as a police officer.
After the City rejected our notice of tort claim on December 26, we promptly amended our federal lawsuit to include a state law claim for wrongful discharge, adding it to our federal constitutional claims.
* On December 27, we filed an amicus curiae (friend of the court) brief in the U.S. Supreme Court case of June Medical Services LLC v. Gee, in which the justices will decide the constitutionality of a Louisiana law requiring abortionists to have hospital admitting privileges.  The case also raises the question of whether abortion businesses should be able to challenge laws governing abortion.
We filed the brief on behalf of Priests for Life and Rachel's Vineyard.  Oral argument is set for March 4, 2020.
* On December 30, we filed our reply in support of our request for a preliminary injunction in the civil rights lawsuit we filed in November in the U.S. District Court for the District of Minnesota on behalf of Sally Ness.  This is an important First Amendment case.
The lawsuit alleges that the City of Bloomington, two City police officers, and the Hennepin County Attorney violated Ness's rights protected by the First and Fourteenth Amendments by threatening to enforce local and state laws against her for filming public information exposing various zoning and other violations committed by a local mosque and its associated school, both of which are located in Ness's neighborhood.
Because of the credible threats of arrest for exercising her First Amendment rights, we filed a motion for a preliminary injunction on behalf of Ness, seeking to halt the enforcement of these laws while the case proceeds.
The hearing on our motion is scheduled for January 8 in Minneapolis.
* As always, we have several other important cases in the works!  We must be vigilant and persistent in our fight for faith and freedom!
Thank you for your prayers and financial support.  We couldn't do what we do without them!