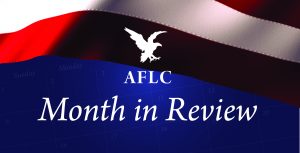 Here are the highlights for September:
* On September 11, we filed a response in the California Supreme Court to a request to de-publish (i.e., make non-precedential) the California Court of Appeals' decision in Center for Bio-Ethical Reform, Inc. v. The Irvine Company, in which we won an important free speech ruling under the California Constitution.
Interestingly, the request was based not on the free speech issue, but on a secondary issue involving the appellate court's denial of our request for civil penalties under a California statute.  The California Supreme Court informed the parties that it will be rendering a decision on how it intends to proceed by the end of October.
* On September 14, AFLC Co-Founder and Senior Counsel Robert Muise gave a speech at the National Day of Remembrance for Aborted Children held in Brighton, Michigan.  This was a national event held at gravesites of aborted babies throughout the United States.
* On September 18, we filed a federal civil rights lawsuit against the City of Detroit and several City police officers, challenging their enforcement of various restrictions that prohibited pro-lifers from engaging in free speech activity during the Democrat presidential candidate debates held this past July at the Fox Theatre in Detroit.
* On September 30, we filed a notice of supplemental authority in our lawsuit against Dana Nessel, the Michigan Attorney General, and Agustin Arbulu, the Director of the Michigan Department of Civil Rights.  We sued these government officials for unlawfully targeting political opponents, including AFLC, based on the radical, Left-wing Southern Poverty Law Center's false "hate group" label.
As our notice demonstrates, this is not the first time that Nessel has abused her authority as the Michigan Attorney General.
In the notice, we brought to the Court's attention the recent decision (September 26) in Buck v. Gordon, where the court held that Nessel should not be dismissed from the case involving religious discrimination because the evidence "supports a strong inference that St. Vincent was targeted based on its religious belief, and that it was Defendant Nessel who targeted it."
As the court in Buck further noted, "Leading up to and during the 2018 general election campaign, [Nessel] made it clear that she considered beliefs like St. Vincent's to be the product of hate."
There is no question that Nessel is weaponizing the Office of the Michigan Attorney General, taking a page right out of the Obama/Holder DOJ playbook.
* We have been diligently working on several important cases that will be making the news in the coming weeks.  When the information, which is still confidential, becomes public, you will be one of the first to know!
Thank you for your prayers and financial support.  We couldn't do what we do without them!