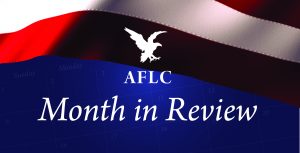 Here are the highlights for June:
* On June 4, the Council on American-Islamic Relations (CAIR) settled a case originally filed 11 years ago in the United States District Court for the District of Columbia.
We brought this lawsuit against CAIR on behalf of five victims of a massive fraud perpetrated by a CAIR lawyer, Morris Days.
CAIR's decision to finally settle the case came only after two very adverse court decisions.  The first decision by the D.C. Circuit reversed an earlier dismissal of the lawsuit.  The court of appeals' decision, the second appeal in this long-standing case that had included allegations of criminal racketeering by CAIR, mandated that the federal district court permit the case to go to a jury trial, set for September 2019.
The second court decision was by the trial court itself, which refused to dismiss the consumer fraud statute count.  The import of this decision meant that our clients would receive attorney's fees irrespective of the amount the jury awarded as long as the jury found CAIR liable.
Given the aggressively fought litigation over the past decade, CAIR was looking at a possible judgment approaching one million dollars just for attorney's fees.
It is thus no surprise that at a mediation conducted in the U.S. District Court in D.C. by U.S. Magistrate Judge G. Michael Harvey in late May, CAIR finally agreed to a settlement.
The settlement was approved by the district court judge on June 6, 2019.
* On June 13, we filed our reply briefs in support of our applications for leave to appeal to the Michigan Supreme Court in two cases involving Red Rose Rescues at abortions centers located in the City of Sterling Heights and West Bloomfield Township.
Both cases resulted in convictions for trespass.  And in both cases, we are seeking review of the trial court's refusal to instruct the jury on two viable defenses to the trespass charges: the defense of necessity and the defense of others.
By denying these instructions, the lower courts violated our clients' fundamental right to present a defense in violation of their right due process.
* On June 17, AFLC Co-Founder and Senior Counsel Robert Muise argued in federal court in Kalamazoo, Michigan in opposition to the Michigan Attorney General's motion to dismiss our civil rights lawsuit filed against her and the Director of the Michigan Department of Civil Rights.
The lawsuit was filed as soon as we learned that these government officials intended to target conservative groups, including AFLC, for investigation and surveillance based on the fact that the radical, left-wing Southern Poverty Law Center designates such groups as "hate groups."
As a result, our lawsuit alleges that these Michigan government officials are abusing their power and resources to target law-abiding citizens for disparate treatment based on their political views.
This Orwellian policy violates our rights protected by the First and Fourteenth Amendments, as we set forth in our briefs and during oral argument.
At the conclusion of the hearing, the judge asked the parties to file supplemental briefs, which we are currently preparing.
* On June 20, we were retained, once again, to defend four pro-lifers who were arrested in Flint, Michigan for engaging in a Red Rose Rescue at a local abortion center.
This time, the rescuers are facing a felony charge based on the fact that they passively "resisted" arrest—a time-honored act of civil rights protesters who oppose an immoral law.
The government claims that the rescuers' unwillingness to actively assist the officers in their own arrests violates a state statute that prohibits anyone from "assaulting, resisting, or obstructing" an officer, which is a felony.
If we do not defeat this charge, it threatens to turn every peaceful, civil rights protest into a felony offense.
* We continue with court appearances, depositions, briefs, and motion practice in many other cases as well.
Thank you for your prayers and financial support.  We couldn't do what we do without them!