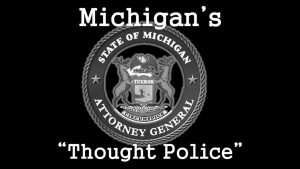 (Kalamazoo, Michigan)–As expected, Dana Nessel, the Michigan Attorney General, filed a motion asking the judge to dismiss our lawsuit challenging her policy directive which targets the American Freedom Law Center (AFLC) for investigation and surveillance by her new "hate crimes unit" because AFLC has been designated by the radical, Left-wing (and totally discredited) Southern Poverty Law Center (SPLC) as a "hate group" operating in Michigan.
In her motion, the Michigan AG doubles-down, acknowledging that she is in fact relying on the SPLC's designations, which she deems "credible."  Yet, she insists that the judge should dismiss our federal civil rights lawsuit.
On May 14, 2019, we filed a full-throated response to her motion (a motion which was joined by the Director of the Michigan Department of Civil Rights, who is also a named defendant).  You should take a moment to read our court filing, which is available here.
As we argue in our response:
Defendant Nessel's motion to dismiss confirms that she is weaponizing the Office of the Michigan Attorney General to publicly promote, and thus give the government's imprimatur to and endorsement of, a false political narrative advanced by the Southern Poverty Law Center ("SPLC")—a narrative that is intended to, and in fact has, harmed Plaintiff.  Defendant Nessel's objective is patent, and it is unlawful.
We further argue that
as soon as this lawsuit was filed, Defendant Nessel confirmed Plaintiff's concerns, her unlawful intentions, and her political bias, stating on her public Facebook page in response to the filing of this lawsuit:

"Only in Trump's America do you get sued for pledging to prosecute hate crimes and pursue organizations that engage in illegal conduct against minority communities.  I will never back down on my commitment to protect the safety of all Michiganders.  Bring it."

(FAC ¶ 52, Ex. 4) (emphasis added).  This is not the statement of an objective, clear-minded government official who is a top law enforcement officer disavowing an intention to abuse government power and misuse government resources to unlawfully target Plaintiff.  The opposite is true, requiring this Court to stop her unlawful abuse of power.
Our response sets forth the factual and legal basis for our claims against the Michigan AG and the Director of the Michigan Department of Civil Rights.  We fully expect the court to deny their motion to dismiss.  Should the district court disagree with us, we will seek immediate review in the U.S. Court of Appeals for the Sixth Circuit.  This case is too important.  We cannot permit the dictatorship of the Left to suppress our fundamental liberties.
Attachments