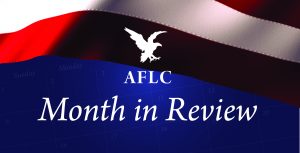 Here are the highlights for May:
* On May 6, we filed our reply brief in the U.S. Supreme Court in support of our petition asking the high court to review a case in which the Washington Metropolitan Area Transit Authority (WMATA) rejected our clients' "Support Free Speech" ad under its advertising guidelines prohibiting "issue" ads.
Just recently, the Court denied review.  However, this important First Amendment case is far from over.  It is likely that the Court denied review because the D.C. Circuit reversed, in part, the lower court's ruling in WMATA's favor on whether its rejection of the ad was "reasonable" under the First Amendment in light of recent precedent.  The circuit court remanded the case back to the district court for its opinion on the issue.  We argued that the high court should take up the case regardless because the issue was a legal one.
However, the Supreme Court typically wants to hear the views of the lower courts on an issue before deciding it.  Consequently, if we don't prevail on the "reasonableness" issue in the district court, we will file another appeal to the D.C. Circuit and then petition the Supreme Court once again if necessary.
* On May 8, AFLC Co-Founder and Senior Counsel Robert Muise presented oral argument before a three-judge panel of the U.S. Court of Appeals for the Sixth Circuit in an important First Amendment case.
In this case, Thames v. City of Westland, City police officers arrested and detained our client, Kimberley Thames, for more than 49 hours based on a bogus claim by a local abortion center security guard that Thames had made a bomb threat.
However, the alleged "threat," never actually said by our client—"I prophesy that bombs will fall in the future"—is not a proscribable "true threat" but speech protected by the First Amendment as a matter of law.
The trial court denied the police officers' request for qualified immunity, sending the case to a jury trial.  The officers appealed that ruling, and we cross-appealed, arguing that we should win on First Amendment grounds as a matter of law.
* On May 9, we filed two applications in the Michigan Supreme Court, asking the state's highest court to review two very important pro-life cases.  Both cases involved Red Rose Rescues at abortions centers located in Michigan.  Both cases resulted in convictions for trespass.
The first case involved a rescue at an abortion center located in the City of Sterling Heights.  The second case involved a rescue at an abortion center in West Bloomfield Township.
In both cases, we are seeking review of the trial court's refusal to instruct the jury on two viable defenses to the trespass charges: the defense of necessity and the defense of others.
By denying these instructions, the lower courts violated our clients' fundamental right to present a defense in violation of their right due process.
* On May 14, we filed our response to the Michigan Attorney General's motion to dismiss our civil rights lawsuit filed against her and the Director of the Michigan Department of Civil Rights for targeting conservative groups, including AFLC, for investigation and surveillance based on the fact that the radical, left-wing Southern Poverty Law Center designates such groups as "hate groups."
As a result, these Michigan government officials are now abusing their power and resources to target law-abiding citizens for disparate treatment based on their political views.  This Orwellian policy violates our rights protected by the First and Fourteenth Amendments, as we set forth in our full-throated response.
*On May 17, we filed our opening brief in the Sixth Circuit in AFDI v. SMART, a case in which SMART, a government transit agency, rejected our clients' "Leaving Islam" ad in violation of the First Amendment.
Indeed, as discovery demonstrated, SMART permitted a wide-array of controversial ads, including an ad submitted by an atheist organization that questioned the existence of God, among others.
Thus, the evidence shows that SMART's claim that it rejected AFDI's ad because it uniformly rejects controversial "political" ads was simply a pretext to hide its unlawful viewpoint-based discrimination
* We continue with court appearances, depositions, briefs, and motion practice in many other cases as well.
Thank you for your prayers and financial support.  We couldn't do what we do without them!