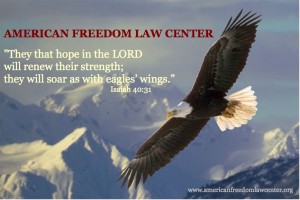 On behalf of the American Freedom Law Center (AFLC), we are proud to report to you AFLC's significant accomplishments each month, which, of course, are made possible by your prayers and generous support.
For August, AFLC achieved two major, precedent-setting victories for religious liberty and freedom of speech. Additionally, AFLC's attorneys were engaged in heavy-lifting, "trench litigation" – that is, drafting and filing motions (and responses to motions), court hearings, and discovery, including depositions – all of which are time consuming and costly, but yet necessary to achieve victory for our clients and for America's future. As you review this past month's accomplishments, we hope you can see that AFLC's attorneys not only work tirelessly, but we strive for excellence in all that we do.
Here are the highlights for the month of August:
Thank you for your prayers and support. May God bless you, and may God continue to bless America.