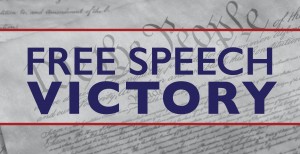 On June 7, 2017, a federal judge sitting in the U.S. District Court for the Western District of New York signed a stipulated order that ended our successful First Amendment lawsuit against several officials from the State University of New York at Buffalo (SUNY-Buffalo).
In this lawsuit, the American Freedom Law Center ("AFLC") sued SUNY-Buffalo officials on behalf of the Center for Bio-Ethical Reform, Inc., a national pro-life group, and its student sponsors for permitting an unruly mob of pro-abortion protestors to purposely disrupt a peaceful, pro-life demonstration on the university's campus.  The case is captioned Center for Bio-Ethical Reform, Inc. v. Black.
This order requires the "State University of New York" to "not engage in discriminatory enforcement of its regulations against Center for Bio-Ethical Reform, Inc., and UB Students For Life" and to "take all reasonable measures to enforce its policies against deliberately disrupting or preventing the freedom of any person to express his or her views."  The order also requires the State of New York to pay AFLC $30,000 in attorneys' fees.
The order came as the result of a prior favorable ruling in which the judge denied the motion to dismiss filed by the SUNY-Buffalo officials, who argued that the lawsuit failed to state a constitutional violation.
In that important First Amendment ruling, the judge held as follows:
CBR's "exhibition was unquestionably subject to First Amendment protection," that "when the University defendants allowed counter-demonstrators to use signs, umbrellas, and bed sheets to block the photo-murals from view," these facts were "sufficient to allege that the defendants took adverse actions against plaintiffs," and "that the protected speech was at least a 'substantial' or 'motivating' factor in defendants' alleged discriminatory and retaliatory acts."  To that end, the court found "the specific allegations of plaintiffs of statements and circumstances tending to show the defendants were hostile to the content and viewpoint of plaintiffs' photo-murals, and plaintiffs' insistence on exercising their rights to freedom of speech, are legally sufficient."
Robert Muise, AFLC Co-Founder and Senior Counsel, commented:
This is an important case which establishes the principle that public university officials cannot stand idly by as protesters seek to disrupt the free speech rights of other students and groups on their campuses.  Indeed, we've accomplished every goal we pursued in this litigation: we established an important First Amendment principle of law and we ensured that our clients' speech is fully protected by this constitutional safeguard.  And on top of that, the State of New York is paying us $30,000 in attorneys' fees.  Victory is complete.