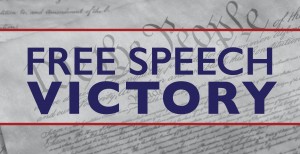 On May 16, the U.S. Supreme Court denied Wayne County's petition for writ of certiorari, which asked the high court to review the Bible Believers case.  This denial ends any further substantive challenges to this important First Amendment ruling.
In October 2015, a majority of the full court of the U.S. Court of Appeals for the Sixth Circuit ruled in favor of the Christian evangelists, who were violently attacked by a hostile Muslim mob while preaching at the Arab Festival in Dearborn, Michigan.
Video of the assault went viral on YouTube.
The Sixth Circuit completely reversed a lower court decision which ruled in favor of Wayne County and officials from the County Sheriff's Office who silenced the Christians' speech in response to the hostile mob's reaction.
In its decision, the Sixth Circuit ruled that by threatening to arrest the Christians for engaging in protected speech, County officials were liable for violating the Christians' First Amendment rights to free speech and the free exercise of religion and for depriving them of the equal protection of the law.
AFLC Co-Founder and Senior Counsel Robert Muise commented:
This decision, which is now final, was a complete victory for the Constitution and for all freedom-loving Americans who enjoy the protections of the First Amendment.
Indeed, this decision makes clear that the First Amendment protects speech critical of Islam and that when the government seeks to suppress such speech by enforcing a heckler's veto that favors the violent Muslim mob over the free speech rights of Christians, the government will pay dearly for this egregious violation of the Constitution.
As stated by the Sixth Circuit:
In a balance between two important interests—free speech on one hand, and the state's power to maintain the peace on the other—the scale is heavily weighted in favor of the First Amendment. . . .  Maintenance of the peace should not be achieved at the expense of the free speech.  The freedom to espouse sincerely held religious, political, or philosophical beliefs, especially in the face of hostile opposition, is too important to our democratic institution for it to be abridged simply due to the hostility of reactionary listeners who may be offended by a speaker's message.