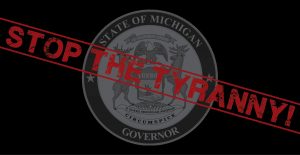 (Washington, D.C. – Dec. 21, 2022)  Today, the American Freedom Law Center (AFLC) filed a petition for writ of certiorari, asking the U.S. Supreme Court to take up its case challenging the draconian restrictions imposed by Michigan Governor Gretchen Whitmer during the recent COVID crisis.
Governor Whitmer issued some of the nation's most restrictive and unconstitutional executive orders during the COVID pandemic.  Indeed, The Babylon Bee, a satire website, ran a story titled, China Taps Governor Gretchen Whitmer to Lead Lockdown Enforcement.
During the pandemic, Governor Whitmer would constantly move the goal posts and modify her executive orders once a legal challenge was brought.  This case was no different.  In fact, she modified the challenged executive order nearly a week before it was scheduled to expire (the orders typically expired in 30 days) and on the eve of the court holding a hearing on our request for an injunction.  There were no material changes in the pandemic.  The Governor simply did not want a court to rule on the restrictions.
Unfortunately, the courts have been unwilling to hold Governor Whitmer (and other leftist governors who issued unconstitutional executive orders during the pandemic) accountable, dismissing the legal challenges as moot since the restrictions have expired.  (The courts would take many months, even years, before they would rule).
In the petition, we framed the "Question Presented" as follows:
The COVID-19 pandemic was as much a constitutional crisis as it was a public health crisis.  For years, American citizens, specifically including Michigan residents, were subject to constantly changing orders that imposed extreme burdens on fundamental freedoms in a way that our nation has never experienced in its history.  The cost of these burdens is incalculable.  Unfortunately, many courts did nothing, abdicating their duty to say what the law is and allowing this frontal assault on liberty to proceed largely unchecked.

1. Is this constitutional challenge to the Michigan Governor's emergency restrictions that directly infringed fundamental rights moot when the restrictions are capable of repetition yet so short in duration that they evade review and the Governor voluntary ceased the allegedly unlawful action while this lawsuit was pending?
The petition concludes as follows:
In sum, Governor Whitmer is free to return to her old ways, and the public has a very strong interest in having the legality of the challenged restrictions settled, as evidenced by the public protests spurred by her orders.  Id. ¶ 61.  This case is not moot, and a federal court should decide the important constitutional claims presented.  Things won't go well if they don't.