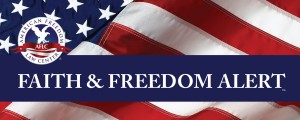 Here are some important cases to keep an eye on . . .
Thames v. City of Westland
In this case, we are representing Kimberley Thames, a peaceful, sidewalk counselor who was unlawfully arrested for allegedly making a bomb threat while praying on a public sidewalk outside of an abortion center.  Kimberley was detained in a police jail cell for over 49 hours before being released.  The problem for the City is that even if she did (which she didn't) make the "threat" she was alleged to have made by the abortion center's security guard, the statement cannot be punished as a "true threat" as a matter of First Amendment law.  We just recently filed our main brief in the U.S. Court of Appeals for the Sixth Circuit.  You can read that brief here.
Youkhanna v. City of Sterling Heights
In this case, we are representing several City residents who oppose the construction of a mega-mosque in their largely Chaldean Christian neighborhood.  Even though the mosque does not comply with local and state zoning regulations, the City Council approved its construction to settle lawsuits filed against the City by the Muslim organization that wants to build the mosque and Obama's Department of Justice.  During the City Council meeting where the settlement was approved, the City mayor, who is the chairman of the council, prevented the residents from making any comments that he perceived to be negative toward Islam, in violation of our clients' First Amendment rights.  We recently filed our opening brief in the Sixth Circuit.  You can read that brief here.
Red Rose Rescue Appeal
We recently filed an application for leave to appeal to the Michigan Court of Appeals in our case representing five pro-lifers who were arrested, charged, and convicted for engaging in a Red Rose Rescue at an abortion center in West Bloomfield, Michigan.  This rescue was responsible for stopping at least 11 scheduled abortions.  In this appeal, we are seeking to make case law that will assist pro-lifers in the future.  You can read our application here.
AFDI v. Washington Metropolitan Area Transit Authority (WMATA)
In this case, the U.S. Court of Appeals for the D.C. Circuit (the court on which Judge Brett Kavanaugh currently sits, although he took no part in this panel decision), recently reversed, in part, an adverse ruling against our clients, AFDI, Pamela Geller, and Robert Spencer, and remanded the case for the district court to determine whether WMATA's restriction on our clients' "Support Free Speech" ad was "reasonable."  However, the circuit court improperly concluded that WMATA's speech restriction was not viewpoint based.  We recently filed a petition for rehearing en banc, requesting that the 3-judge panel decision be vacated and the entire court take up the important First Amendment question presented.  The D.C. Circuit recently directed opposing counsel (WMATA hired Obama's former Solicitor General to handle the case for them) to respond to our petition, which is a good sign!
AFDI v. King County
Last month, AFLC Co-Founder Robert Muise argued this important First Amendment case before the U.S. Court of Appeals for the Ninth Circuit in Seattle, Washington.  In this case, King County rejected our clients' "Faces of Global Terrorism" ad, which depicted 16 "faces" of terrorists listed on the FBI's Most Wanted list.  The County rejected the ad, claiming that it was demeaning toward Muslims since all of the terrorists were either Muslim or engaged in terrorist acts in the name of Islam.  You can watch the video of the oral argument here.  We are cautiously optimistic that we will prevail in this case based on a recent U.S. Supreme Court decision holding that "demeaning or disparaging" restrictions on speech constitute unlawful viewpoint discrimination.