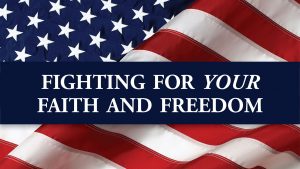 (Washington, D.C.) – On October 13, 2022, the American Freedom Law Center (AFLC) filed a petition for writ of certiorari, asking the U.S. Supreme Court to review an important First Amendment case.
In September 2019, AFLC filed a federal civil rights lawsuit against the City of Detroit and several City police officers, challenging their enforcement of various restrictions that prohibited pro-lifers from engaging in free speech activity during the 2019 Democratic Party presidential candidate debates held in July at the Fox Theatre in Detroit.
The complaint was filed in the U.S. District Court for the Eastern District of Michigan on behalf of Created Equal and its Founder Mark Harrington.
The lawsuit alleges that the City and several of its police officers violated the pro-lifers' fundamental rights protected by the First, Fourth, and Fourteenth Amendments to the U.S. Constitution.
More specifically, during the two days of the debates (July 30 & 31), the City imposed draconian restrictions that prevented anyone with a message that conflicted with the policies of the Democratic Party candidates, particularly messages that conflicted with the candidates' radical pro-abortion policies, from reaching the debate participants and attendees.
As summarized in the lawsuit:
The City created and enforced an overbroad and unreasonable "restricted area" that prevented the pro-lifers from engaging in free speech activity in traditional public forums. The restriction was not narrowly tailored to serve a significant government interest, and it did not leave open ample alternative channels of communications to permit the pro-lifers to reach their intended audiences with their message.
Police officers enforced the City's unlawful speech restriction by (1) dividing protestors based on the content and viewpoint of their message, (2) designating the areas that speakers were permitted to engage in their free speech activity based on the content and viewpoint of their message, and (3) giving a favorable location to those speakers who supported the views of the Democratic presidential candidates and an unfavorable location to those, including the pro-lifers, who opposed the views of the candidates.
The City's unlawful speech restrictions ensured that the pro-lifers' powerful message conveyed by their signs was far enough away from the Fox Theatre that the message was hidden from the view of the candidates, the debate attendees, and the media coverage of the debate.
The Sixth Circuit upheld the restrictions, including the viewpoint-based restrictions under strict scrutiny:  Per the petition:
There was a time in our nation's history when the application of strict scrutiny meant something.  No doubt, when a decision erodes this most demanding test known to constitutional law, it also erodes the fundamental right that it is intended to protect.  In this case, that right is the fundamental right to freedom of speech.
AFLC is asking the high court to review the case, reverse the Sixth Circuit's erroneous decision, and uphold the fundamental right to freedom of speech.