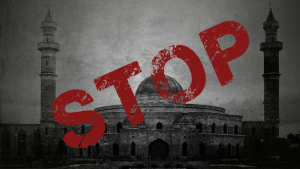 In 2017, we filed a civil rights lawsuit against the City of Sterling Heights, Michigan, and its Mayor, Michael C. Taylor, alleging violations of federal and state law.  The lawsuit was filed in the U.S. District Court for the Eastern District of Michigan on behalf of seven residents of the City who oppose the construction of a mosque in their largely Chaldean Christian neighborhood.
It was evident then as it is now that the American Islamic Community Center (AICC) wanted to "plant the flag" in this Chaldean Christian community by building a huge mosque.  This is largely a community of Christians who fled Iraq because they or family members were subjected to violence and abuse from ISIS.
In February 2017, the City decided not to defend against the specious claims of discrimination made by AICC and the Obama Department of Justice in their lawsuits filed against the City, but instead to capitulate and enter into a Consent Judgment that granted AICC permission to build the mosque even though doing so violated local and state zoning regulations.
The decision to enter into the Consent Judgment was made during a City Council meeting held in February 2017.  During this public meeting, the Mayor enforced a content- and viewpoint-based speech restriction that prohibited private citizens, including our clients, from making any comments that the Mayor deemed critical of Islam, in direct violation of the First Amendment!
The district court ruled in favor of the City, and in an opinion fraught with egregious errors, a three-judge panel of the U.S. Court of Appeals affirmed on August 14, 2019.
As a result, on August 23, 2019, we filed a Petition for Rehearing En Banc, asking the entire Sixth Circuit to take up this case.
As we argue in our petition, "review by the entire Court is necessary because the panel committed precedent-setting errors of exceptional public importance and issued an opinion that directly conflicts with Supreme Court, Sixth Circuit, and well-established precedent of other federal courts."
You can read our full petition here.
Please keep this exceedingly important case in your prayers.