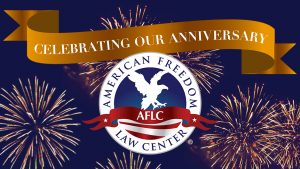 Ten years ago yesterday (January 23, 2012), we launched AFLC.  And since then, we have tirelessly fought for faith and freedom in courtrooms across the country, as well as in the public square.
We are proud of all that we have accomplished, but we know that there is much work to be done.  This fight for the soul of our nation is far from over.
As we reflect on these past ten years, we can see God's providence.  It is fitting that we chose Isaiah 40:31 as the Scriptural inspiration for AFLC.  "They that hope in the Lord will renew their strength; they will soar as with eagles' wings."
This is a constant reminder that all that we have, including our cherished freedoms, comes from our Creator, and so we must always, as our national motto proclaims, place our trust in God.
In closing, as we celebrate our past accomplishments and look forward to many more, we want to pause to thank all of you—our loyal supporters—for the critical part you have played in making all of this possible.
May God bless you, and may He continue to bless America.