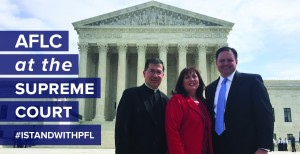 On March 23rd, the U.S. Supreme Court heard arguments in seven consolidated cases challenging the HHS contraception/abortion mandate of the Affordable Care Act (i.e., Obamacare) on behalf of religious organizations.
One of those cases is AFLC's challenge brought on behalf of Priests for Life.
The question presented to the Court is whether the HHS mandate and its so-called "accommodation" as applied to non-exempt, nonprofit religious organizations violates the Religious Freedom Restoration Act (RFRA).
As argued in AFLC's briefs filed with the Court, the government mandate directly forces Priests for Life to provide the means and mechanism by which contraception, sterilization, and abortifacients are provided to Priests for Life's healthcare plan participants and beneficiaries.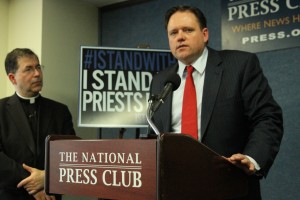 This is unacceptable because it compels Priests for Life, and its executive directors, including Father Frank Pavone, to violate their sincerely held religious beliefs.
Priests for Life's and Father Pavone's sincerely held religious beliefs prohibit them from cooperating with the government's pro-contraception scheme.
These religious beliefs are neither trivial nor immaterial, but rather central to the teaching and core moral admonition of the Catholic faith, which requires them to avoid mortal sin and scandal.  Indeed, the mandate and it's "accommodation" force Priests for Life and Father Pavone to materially cooperate with evil, which they cannot do.
And it is beyond the competence and function of government to say otherwise.