(Moscow, Idaho) – On December 7, 2022, the American Freedom Law Center (AFLC) filed a federal civil rights complaint against the City of Moscow, Idaho, and several of its officials, including three police officers.  The lawsuit was filed on behalf of Nathan Wilson, and his two sons, Rory and Seamus.  Seamus is a minor.
The City of Moscow (appropriately named) is a blue dot in the largely red (freedom-loving conservatives) state of Idaho.  Within this tyrannically liberal City is a conservative, Christian community, many of whom belong to Christ Church.  The pastor of this church is Douglas Wilson, the father of Nathan Wilson.  Nathan and his children are active members of this Christian community.
Like most tyrannical liberals, during this past COVID crisis, the City of Moscow imposed severe and absurd lockdowns on liberty.
For example, in early September 2020, Nathan's son Rory was threatened with arrest by City police officers because he was allegedly standing too close to his cousin without a mask.  Rory and his cousin were outdoors at the time.
On September 23, 2020, Rory and his brother Seamus participated in an outdoor Psalm sing organized by their grandfather, Douglas Wilson, the pastor of Christ Church.
Members of the Christ Church engaged in the Psalm sing to protest the City's draconian COVID-19 lockdown orders, which were issued without public consent while ignoring public input.  The Psalm sing protest took place in the outdoor parking lot of the Moscow City Hall.
Despite the fact that the City's COVID-19 orders exempted religious activities, City police officers arrived and began making arrests.  Charges were filed against the arrested participants, but they were later dropped.
The City established a slogan to justify its crackdowns, and City officials posted that slogan on signs around the City.  The City's slogan was "ENFORCED BECAUSE WE CARE."
Before all charges against the Psalm-sing participants were dropped, Nathan Wilson assisted with creating decals to protest the City's draconian COVID-19 orders and their enforcement, including the arrests made at the Psalm sing because of these orders.  Nathan and his business partner paid for the decals because his partner's brother was one of the Psalm-sing participants arrested.
The decals were small (most were 3 inches in size and some were 8 inches), made of vinyl, and were non-damaging.  That is, they were the type of decals that could be applied and removed easily without causing any damage or leaving any residue.
Some of the decals created stated, "SOVIET MOSCOW," and they included a hammer and sickle.  The majority of the decals bore an image of the hammer and sickle and stated, "SOVIET MOSCOW: ENFORCED BECAUSE WE CARE," in protest to the City's draconian and tyrannical COVID-19 orders.  A copy of a Soviet Moscow protest decal appears below: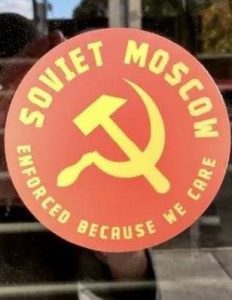 On October 6, 2020, Rory and Seamus posted Soviet Moscow protest decals on City property, particularly at locations where other decals, stickers, and handbills were or have been posted in the past.  These locations include City light poles, parking poles, and signs.  Rory and Seamus engaged in this expressive activity to protest the City's tyrannical COVID-19 orders.
It is an accepted and routine practice in the small university City to post messages, specifically including commercial messages, political messages, and messages on matters of public interest, on poles and other City property throughout the City.  The City permits this practice and has created a forum for speech by doing so.
Consequently, many poles in the City display hundreds of various decals and fliers expressing various messages.  In addition to permitting the use of the poles for expressing various messages, the City permits the posting of thousands of yard signs, lost pet fliers, and handbills with political and other public-issue messages at various public locations on a regular basis.
While these practices have been permitted by the City for decades, City police officers seized the two boys and issued them and their father (who merely produced the decals) criminal citations.
The City later dispatched workers to remove the Soviet Moscow protest decals from the downtown area.  The workers only removed the Soviet Moscow protest decals and left every other decal, sticker, or poster in place, including stickers directly insulting the Wilson's Christian community.
Some of the insulting stickers included messages such as "F**k Christ Church," "All Kirkers Are Bastards" on a little blue cross sticker that imitates and thus mocks the church's logo, and "NSA GET OUT."  NSA is a Christian college associated with Christ Church, and Kirkers is a local nickname for members of Christ Church.
The City's bias and prejudice against the Wilsons, their political and religious views, and their religious beliefs were evidenced by a City prosecutor's written exchanges in which she describes the Wilson's religious community/family as "religious idiots" and "Christ Church *ssholes," and refers to the Wilson's protest actions and religious activity as "bullsh*t."
As set forth in the complaint:
This case seeks to protect and vindicate fundamental rights.  It is a civil rights action brought under the First, Fourth, Fifth, and Fourteenth Amendments to the United States Constitution and 42 U.S.C. § 1983, challenging Defendants' unlawful actions and selective enforcement of the law that were motivated by Defendants' hostility toward Plaintiffs and their political and religious viewpoints and religious beliefs.
The lawsuit seeks declaratory and injunctive relief and damages.