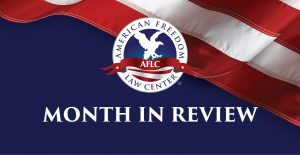 Here are highlights for February!
* On February 1, we filed a motion in the U.S. Court of Appeals for the Sixth Circuit to expedite our appeal of the district court's denial, in part, of our request to preliminarily enjoin the Township's restriction on our clients' right to display religious symbols on their private property.
This lawsuit involves important issues regarding the use of private property for religious exercise and expression.
Our lawsuit was filed in June 2022, on behalf of Catholic Healthcare International, Inc. and its president Jere Palazzolo, against Genoa Charter Township, Michigan.
On February 14, the appellate court granted our motion to expedite.
You can read more about this important case here.
* On February 10, we filed our response to the defendants' motion to dismiss our lawsuit filed in federal court in Idaho on behalf of a father and his two sons who were engaging in political speech critical of the City of Moscow.
The lawsuit was filed against the City and several of its officials for the selective enforcement of the law motivated by the government officials' hostility toward our clients' conservative political and religious viewpoints and beliefs.
More specifically, two of our clients were arrested and all three were charged under a local ordinance for posting "Soviet Moscow" decals in the City as a protest to the City's draconian COVID restrictions issued during the pandemic.
*On February 21, we began a four-day jury trial, defending six Red Rose Rescuers who peacefully entered the Northland Family abortion center in Southfield, Michigan last April.
The trial concluded on February 24, with the jury returning a mixed verdict.  Unfortunately, all of the rescuers were found guilty of trespassing and resisting an officer (the rescuers engaged in what is often called "passive resistance"—they remained on their knees and would not voluntarily walk out so long as innocent human life was in danger at the killing center).
Two of the rescuers were found not guilty of the disturbing the peace/interference with a business charge.
Sentencing is scheduled for March 30.
We have numerous issues to raise on appeal following sentencing.
* Throughout this month, we had hearings, discovery, motions, and other litigation matters in the contentious and important Mast case, which involves a custody dispute over a baby girl.  But this is no run-of-the-mill custody case.
This dispute involves a young Marine assisting an infant child recovered off the battlefield by Army Rangers, during a mission to take out a nest of East Turkistan Islamic Party (ETIP), Al Qaeda foreign fighters in Afghanistan in September 2019.
Two of the foreign fighters were the parents of this little girl.  The father was killed in the firefight engaging the Rangers; the mother blew herself up with a suicide pack while holding her months-old baby girl.
Miraculously, the baby survived but was seriously injured.
The Marine and his wife were granted custody of this child, and now that custody is being challenged by those who do not want a Muslim child to be raised by Christians.
We are representing the Marine's brother, who is embroiled in this legal battle because he assisted his brother with obtaining legal custody of the child.
You can read more about this intriguing case here.
Thank you for your prayers and financial support.  We couldn't do what we do without them!