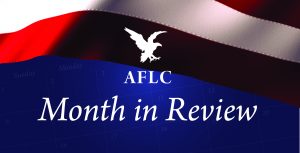 Here are the highlights for the crazy month of November:
* On November 2, we filed our reply brief in support of our motion for preliminary injunction in our civil rights lawsuit against Pennsylvania Governor Tom Wolf, the Pennsylvania Attorney General, and Dr. Rachel Levine, the Secretary of Health for the Pennsylvania Department of Health.
Our lawsuit and motion seek to enjoin (halt) the Governor's and the Department of Health's contract tracing program and mandate to wear face masks, arguing that these restrictions infringe upon fundamental liberties protected by the First, Fourth, and Fourteenth Amendments.
As Justice Alito recently stated, "As more medical and scientific evidence becomes available, and as States have time to craft policies in light of that evidence, courts should expect policies that more carefully account for constitutional rights."
Pennsylvania's overly broad, "one-size-fits-all" restrictions are unconstitutional.
* On November 10, we filed a reply brief in the U.S. Court of Appeals for the Eighth Circuit in our federal civil rights lawsuit filed on behalf of Sally Ness. 
The lawsuit alleges that the City of Bloomington (Minnesota), two City police officers, and the Hennepin County Attorney violated Ness's rights protected by the First Amendment by threatening to enforce local and state laws against her for filming public information exposing various zoning and other violations committed by a local mosque and its associated school, both of which are located in Ness's neighborhood.
Numerous news agencies filed a "friend of the court" brief in support of our position.
We are awaiting a date for oral argument.
* On November 16, we filed a reply brief in support of our motion for summary judgment in our lawsuit against the City of Detroit and several City police officers, challenging their enforcement of various restrictions that prohibited pro-lifers from engaging in free speech activity during the Democrat presidential candidate debates held in July 2019, at the Fox Theatre in Detroit.
Our motion and subsequent reply brief demonstrate that the City and several of its police officers violated our clients' fundamental rights protected by the First, Fourth, and Fourteenth Amendments to the U.S. Constitution as matter of law.
* On November 16, we deposed the representative of the Washington Metropolitan Transit Authority ("WMATA"), in our long-standing, First Amendment, bus ad case.  In this litigation, we represent Pamela Geller, Robert Spencer, and their organization, AFDI.
In 2015, we sued WMATA, the D.C. metro transit authority, because they refused to run an ad by our clients promoting their free speech "Draw Mohammed" contest to make the point to the world that we value our Constitution and the First Amendment more than we fear the violence of Islamists to impose Sharia on us.
This case was originally dismissed by the federal district court in the District of Columbia but reversed and remanded by the U.S. Court of Appeals for the D.C. Circuit.  The sole issue on remand is whether WMATA's refusal to run the ad because it was controversial and thus "political" was subject to reasonable application or just a fig-leaf to ban messages WMATA disliked.
* On November 16, we also filed our reply brief in the WMATA case, asking the court to disallow the depositions of Pamela Geller and Robert Spencer.  WMATA sought to take our clients' depositions even though all of the evidence resides with WMATA.  The motion seeks to preclude WMATA's harassment efforts.
* On November 24, the federal court in Pennsylvania held a remote hearing via Webex on our motion for preliminary injunction.  The motion seeks to halt the mask mandate and Orwellian contact tracing program in that state.
AFLC Co-Founder and Senior Counsel Robert Muise represented our clients in this lengthy hearing.  He cross-examined the Department of Health witness and presented oral argument at the conclusion of the witness testimony.
* November 26: Early on Thanksgiving morning, we, along with associated counsel acting as special counsel for the Thomas More Society based in Chicago, filed a Petition for Extraordinary Writs and Declaratory Relief in the Michigan Supreme Court on behalf of two Michigan voters.
The two voters are members of Black Voices for Trump, and they have been disenfranchised and aggrieved by the determination of the Board of State Canvassers of Michigan to certify the 2020 general election without conducting a full audit and investigation into the numerous (and substantiated) allegations of voter fraud and other serious voting irregularities.
* On November 30, we filed a letter brief in the U.S. Court of Appeals for the Second Circuit arguing that the latest U.S. Supreme Court case enjoining New York Governor Cuomo from enforcing his executive order (along with Mayor de Blasio's similar order) preventing Catholic churches and Orthodox synagogues from holding religious services has application to our case pending in the federal appellate court opposing the mandatory quarantine order for interstate travelers arriving in New York.  The latest Supreme Court case stands for the proposition that a case should not be dismissed as moot just because the governor and mayor change the rules when they are sued to avoid an adverse ruling.
* As always, we have several other important matters in the works!  Our fight for faith and freedom is particularly crucial during this current "pandemic"!
Thank you for your prayers and financial support.  We couldn't do what we do without them!