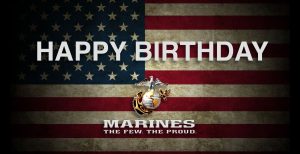 Since the birth of our nation, our liberty has been purchased by valiant men and women of deep conviction, great courage, and bold action.  The cost has often been in blood and tremendous sacrifice.  As America's guardians of freedom, United States Marines are counted among the world's most fierce warriors.
Since 1775, Marines have marched boldly to the sounds of the guns and have fought fiercely and honorably to defeat the scourge of tyranny and terror.  We are Marines—that is what we do.
In his famous Marine Corps Birthday Message of 1921—a message read each year during Marine Corps birthday celebrations held around the globe—Major General John A. Lejeune, Commandant of the Marine Corps, stated:
In every battle and skirmish since the birth of our corps, Marines have acquitted themselves with the greatest distinction, winning new honors on each occasion until the term "Marine" has come to signify all that is highest in military efficiency and soldierly virtue.

This high name of distinction and soldierly repute we who are Marines today have received from those who preceded us in the corps. With it we have also received from them the eternal spirit which has animated our corps from generation to generation and has been the distinguishing mark of the Marines in every age. So long as that spirit continues to flourish Marines will be found equal to every emergency in the future as they have been in the past, and the men of our Nation will regard us as worthy successors to the long line of illustrious men who have served as "Soldiers of the Sea" since the founding of the Corps.
AFLC's Co-Founder, Robert Muise, proudly holds the title of Marine, having served as a Marine officer for thirteen years.  We like to describe AFLC as the Marine Corps of public interest law firms!
Happy birthday Marines.  Semper Fi!