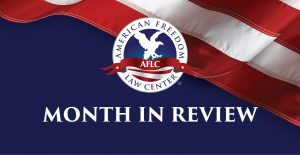 Here are the highlights for another busy month:
* On October 1, AFLC Co-Founder and Senior Counsel Robert Muise took the depositions of Agustin Arbulu, the former director of the Michigan Department of Civil Rights (MDCR).  This deposition is part of AFLC's ongoing civil rights lawsuit against the Michigan AG and the MDCR for publicly relying upon the Southern Poverty Law Center's bogus "hate group" list to target groups, including AFLC, in Michigan.
* On October 7, we filed a motion for preliminary injunction in our civil rights lawsuit against Pennsylvania Governor Tom Wolf, the Pennsylvania Attorney General, and Dr. Rachel Levine, the Secretary of Health for the Pennsylvania Department of Health, seeking to preliminarily enjoin the Pennsylvania contract tracing program and the Governor's and Secretary of Health's mask mandate.
Our motion seeks to enjoin (halt) the Governor's and the Department of Health's contract tracing program and mandate to wear face masks, arguing that these restrictions infringe upon fundamental liberties protected by the First, Fourth, and Fourteenth Amendments.
* On October 14, we filed a motion for summary judgment in our lawsuit against the City of Detroit and several City police officers, challenging their enforcement of various restrictions that prohibited pro-lifers from engaging in free speech activity during the Democrat presidential candidate debates held in July 2019, at the Fox Theatre in Detroit.
Our motion demonstrates that there is no dispute of the facts and that the City and several of its police officers violated our clients' fundamental rights protected by the First, Fourth, and Fourteenth Amendments to the U.S. Constitution as matter of law.
The City filed a motion to dismiss, and on October 31, we filed our response.
* On October 19, we filed a response to NY Governor Cuomo's motion to dismiss our appeal challenging Cuomo's order requiring visitors of certain states to quarantine for 14 days once they arrive in New York even if they are not sick and even if they have tested negative.
* On October 22, we, along with the Great Lake Justice Center, filed a federal civil rights lawsuit on behalf of Resurrection School, a Catholic School located in Michigan, and several minor children and their parents, challenging the Michigan Department of Health and Human Services' (MDHHS) draconian restriction requiring children in grades K through 5 to wear masks throughout the school day.
The lawsuit was filed in the U.S. District Court for the Western District of Michigan.  It advances several claims arising under the United States Constitution and Michigan law, including the Michigan Constitution.
The MDHHS order came on the heels of the Michigan Supreme Court decision declaring that Governor Whitmer's executive orders issued after April 30,2020, were invalid because she lacked the authority to issue them.  Undaunted by the rule of law, as is the case with most power-hungry, Left-wing politicians, Governor Whitmer pledged to use alternative means to impose her will on the people of Michigan.  The challenged MDHHS order is one of those means.
* On October 23, the U.S. Court of Appeals for the Sixth Circuit issued a unanimous ruling upholding the First Amendment in a case that the American Freedom Law Center (AFLC) has been litigating for more than 10 years!
In May 2010, we filed a federal lawsuit challenging the refusal of a Detroit-area transportation authority—the Suburban Mobility Authority for Regional Transportation (SMART)—to display a religious freedom ad on its buses.
The ad stated: "Fatwa on your head?  Is your family or community threatening you?  Leaving Islam?  Got questions?  Get Answers!"
Finally, after ten long years and multiple trips to the Sixth Circuit, the court finally ruled in our favor, holding that SMART's rejection of our clients' ad was unreasonable and viewpoint based in violation of the First Amendment.
* On October 29, we filed a motion for a protective order in yet another long-standing, First Amendment, bus ad case.  In this litigation, we represent Pamela Geller, Robert Spencer, and their organization, AFDI.  In 2015, we sued the Washington Metropolitan Transit Authority ("WMATA"), the D.C. metro transit authority, because they refused to run an ad by our clients promoting their free speech "Draw Mohammed" contest to make the point to the world that we value our Constitution and the First Amendment more than we fear their violence to impose Sharia on us.  This case was originally dismissed by the federal district court in the District of Columbia but reversed and remanded by the Court of Appeals.  The sole issue on remand is whether WMATA's refusal to run the ad because it was controversial and thus "political" was subject to reasonable application or just a fig-leaf to ban messages WMATA didn't approve of.  WMATA has sought to take our clients' depositions even though all of the evidence resides with WMATA.  The motion seeks to preclude WMATA's harassment efforts.
* As always, we have several other important matters in the works!  Our fight for faith and freedom is particularly crucial during this current "pandemic"!
Thank you for your prayers and financial support.  We couldn't do what we do without them!