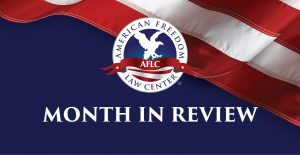 Our fight against tyranny continues!  Here are the highlights for July—a very busy month:
* On July 1, we filed a federal civil rights lawsuit against New York Governor Andrew Cuomo and the Commissioner of the New York Department of Health, challenging the Governor's recent order, Executive Order 205, which requires all persons who travel to New York from certain "restricted" States to quarantine for 14 days upon arrival.
A violation of the order could result in criminal and civil penalties, including a civil penalty of up to $10,000.
The lawsuit was filed in the U.S. District Court for the Northern District of New York on behalf of Cynthia Page, a resident of Arizona who had to cancel her travel plans to New York due to the Governor's order.
Throughout this current pandemic, Governor Cuomo has shamefully politicized this public health crisis.  His restriction on out-of-state travelers is the most recent example
* On July 9, we filed a motion for a preliminary injunction in our civil rights lawsuit challenging Governor Cuomo's travel restriction.
As stated by the U.S. Supreme Court, "The right to travel is a virtually unconditional personal right, guaranteed by the Constitution to us all."  This fundamental right is protected by the Fourteenth Amendment and by the Privileges and Immunities Clause of the U.S. Constitution.
Consequently, the enforcement of a law based upon where one resides (and thus travels from in this case) conflicts fundamentally with the constitutional purpose of maintaining a "Union" rather than a mere "league of States" and thus runs afoul of our Constitution's pledge of equal protection and its guarantee of the "privileges and immunities" to all citizens.
(In a brief we filed on July 30 in this case, we blasted Governor Cuomo).
*On July 17, we filed a civil rights lawsuit in the U.S. District Court for the Western District of Michigan, challenging the enforcement of Governor Whitmer's restriction on "social gatherings" as applied to restrict wedding ceremonies and receptions.
On July 2, our clients received a "cease and desist order" from the Ottawa County Department of Public Health, stating that weddings are not permitted on their property despite the strict health and safety measures that our clients put in place, which include, among others, the installation of air purifiers, multiple sanitation stations, and the implementation of social distancing and mask-wearing protocols consistent with the guidance issued by the CDC.
When our clients questioned the Ottawa County's Corporation Counsel regarding why restaurants, for example, are able to operate at 50% capacity (which our clients were willing to do), but weddings are not permitted at 50% capacity, pointing out as well that weddings are nonetheless religious worship and thus exempt per the express terms of the Governor's orders, the Corporation Counsel responded via email stating that "[a] wedding reception is NOT a religious worship activity; it is a social gathering" and that "[a] wedding ceremony—even if a minister is involved, is not a religious worship service as those terms are used by the Governor. . . ."
We filed an emergency TRO, seeking a court order that would permit a wedding scheduled for July 24 (two of our clients were the bride and groom).  On July 23, the Court denied the TRO.  Sadly, the case is now over as the married couple had to make alternate plans.
* On July 21, we filed a reply in support of our petition for writ of certiorari in the U.S. Supreme Court, asking the high court to review an important First Amendment case where a pro-lifer (our client) was unlawfully arrested and detained for over 49 hours based on a bogus claim by the abortion center security guard that she made a bomb threat.
Aside from the fact that our client never made such a threat, the actual "threat" allegedly made — "I prophesy that bombs are going to fall" — is not a "true threat" as a matter of First Amendment jurisprudence.  It is protected speech.
This case presents important issues arising under the First Amendment, warranting Supreme Court review.
* On July 23, AFLC Co-Founder and Senior Counsel David Yerushalmi argued our injunction motion filed in Geller v. Cuomo, in which we are challenging Governor Cuomo's and N.Y. Mayor de Blasio's discriminatory enforcement of their executive orders banning "non-essential gatherings."
Public protests of more than 25 (it has since been expanded to 50) people are banned.  Yet Cuomo and de Blasio not only endorsed, but participated in, Black Lives Matter protests that far exceeded these numbers.  Tyrannical hypocrites!
* On July 29, following the Court's order granting the City's and County's motions to dismiss and denying our motion for summary judgment, we filed a notice of appeal to the U.S. Court of Appeals for the Eighth Circuit in our lawsuit filed on behalf of Sally Ness.
The lawsuit alleges that the City of Bloomington, two City police officers, and the Hennepin County Attorney violated Ness's constitutional rights by threatening to enforce local and state laws against her for filming public information (an activity protected by the First Amendment) exposing various zoning and other violations committed by a local mosque and its associated school, both of which are located in Ness's neighborhood.
* As always, we have several other important cases in the works!  We must be vigilant and persistent in our fight for faith and freedom, especially during this "pandemic"!
Thank you for your prayers and financial support.  We couldn't do what we do without them!