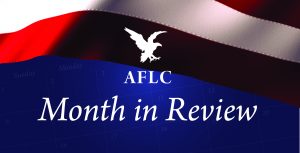 Here are our highlights for March "madness"—as COVID-19 has radically changed the lives of so many of us in so many ways.  As you can see, we remain hard at work, defending faith and freedom!
* On March 9, the parties held a status conference in the U.S. District Court for the Western District of Michigan with the presiding judge in our case against the Michigan Attorney General and the Director of the Michigan Department of Civil Rights (American Freedom Law Center v. Michigan AG Dana Nessel, et al).
The judge commenced a 60-day discovery period.  We have since served the defendants with interrogatories (questions that must be answered under oath), a request for documents, and a request for admission.  We are likewise responding to their requests.  The battle continues!
* On March 16, we filed a response to the City's motion to dismiss and a response to the County's motion to dismiss in our lawsuit (Ness v. City of Bloomington, et al) against the City of Bloomington, Minnesota, two City police officers, and the Hennepin County Attorney, for violating our client's rights protected by the First and Fourteenth Amendments by threatening to enforce local and state laws against her for filming public information exposing various zoning and other violations committed by a local mosque and its associated school, both of which are located in our client's neighborhood.
* On March 20, we received a fee settlement.  The Irvine Company paid AFLC $125,000 in attorneys' fees following our free speech victory in the California Court of Appeals in the case of Center for Bio-Ethical Reform, Inc. v. Irvine Company.
We consider fee awards like this a "return on investment" for the generous charitable donations we receive from all of you.  Please know that we will use this fee payment, like all others, to support more cases defending faith and freedom!
* On March 23, we filed a motion for summary judgment in Ness v. City of Bloomington, setting forth the facts and legal arguments demonstrating that we should prevail on our constitutional claims as a matter of law.
* As always, we have several other important cases in the works!  We must be vigilant and persistent in our fight for faith and freedom!
Thank you for your prayers and financial support.  We couldn't do what we do without them!