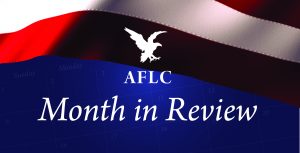 We started off 2020 with a bang!  Here are our highlights for January:
* On January 6, we served the City of Tulsa, Oklahoma and its Chief of Police with the First Amended Complaint we filed in our lawsuit against them for firing our client, Wayne Brown, a former Tulsa police officer.
The City and its Chief fired Brown based on Facebook posts Brown allegedly made over three years prior to his hiring as a police officer.
After the City had rejected our notice of tort claim on December 26, we promptly amended our lawsuit to include a state law claim for wrongful discharge.
The defendants will be responding to our lawsuit within the coming days.
* On January 8, AFLC Co-Founder and Senior Counsel Robert Muise argued a preliminary injunction motion in federal court in Minnesota.  We filed the motion on behalf of our client, Sally Ness.
In this civil rights lawsuit, we allege that the City of Bloomington, two City police officers, and the Hennepin County Attorney violated Ness's rights protected by the First and Fourteenth Amendments by threatening to enforce local and state laws against her for filming public information exposing various zoning and other violations committed by a local mosque and its associated school, both of which are located in Ness's neighborhood.
Because of the credible threats of arrest for exercising her First Amendment rights, we filed a motion for a preliminary injunction on behalf of Ness, seeking to preliminarily halt the enforcement of these laws while the case proceeds.
* On January 15, a federal judge sitting in the U.S. District Court for the Western District of Michigan denied motions to dismiss the federal civil rights lawsuit we filed against Dana Nessel, the Attorney General of Michigan, and Agustin V. Arbulu, the Director of the Michigan Department of Civil Rights.
Our lawsuit challenges the defendants' policy directive to unlawfully target groups in Michigan designated by the radical, leftist Southern Poverty Law Center (SPLC) as "hate" groups—AFLC is on SPLC's hit list.
In their motions to dismiss, Nessel and Arbulu argued that AFLC lacked "standing" and, regardless, the lawsuit failed to allege viable constitutional claims.  The judge disagreed, issuing a 21-page opinion in our favor.  The case will now proceed to the all-important discovery phase.
* On January 22, the Detroit News published an Op-Ed written by Muise discussing our lawsuit against the Michigan AG.
* On January 23, AFLC celebrated its Eighth Anniversary!  It is all made possible by your generous support and prayers!  Thank you!
* On January 27, we filed a "friend of the court" brief in the U.S. Supreme Court in support of a petition filed by Indiana officials asking the high court to review and reverse a decision by the U.S. Court of Appeals for the Seventh Circuit, which halted the enforcement of Indiana's parental-notice law.
The brief was filed on behalf of Priests for Life and Rachel's Vineyard, the world's largest ministry for healing after abortion.
In our brief, we argued that Indiana's parental-notice law promotes Indiana's compelling interests in protecting the health, safety, and long-term welfare of minors who seek court-authorized abortions.  Indiana's notice law serves these interests by requiring parental consultation before a minor makes an irrevocable and profoundly consequential decision.
* As always, we have several other important cases in the works!  We must be vigilant and persistent in our fight for faith and freedom!
Thank you for your prayers and financial support.  We couldn't do what we do without them!