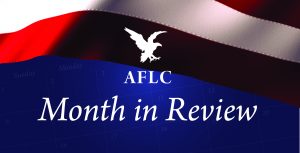 Here are the highlights for November:
* On November 7, AFLC Co-Founder and Senior Counsel David Yerushalmi spoke to a full house in San Diego on the subject of Jew hatred and how it is being driven by Islamic Jew hatred, itself driven by Sharia or Islamic law.
The event was sponsored by the Zionist of America organization.
* On November 12, we filed a new civil rights lawsuit in the U.S. District Court for the District of Minnesota on behalf of Sally Ness.  This is yet another instance where local officials deprived a law-abiding citizen of important First Amendment rights out of fear of Islam.
The lawsuit alleges that the City of Bloomington, two City police officers, and the Hennepin County Attorney violated Ness's rights protected by the First and Fourteenth Amendments by threatening to enforce local and state laws against her for filming public information exposing various zoning and other violations committed by a local mosque and its associated school, both of which are located in Ness's neighborhood.
As set forth in our lawsuit, the First Amendment fully protects our client's right to gather information through photographing and videotaping.  And this is particularly the case here because she is filming public matters related to a public controversy.
Consequently, the law cannot criminalize that which our Constitution protects.
Because of the credible threats of arrest for exercising her First Amendment rights, we filed a motion for a preliminary injunction on behalf of Ness, seeking to preliminarily halt the enforcement of these laws while the case proceeds.
The hearing on our motion is scheduled for January 8 in Minneapolis.
* On November 25, AFLC Co-Founder and Senior Counsel Robert Muise argued a "motion to quash" the felony charges brought against four pro-life rescuers who peacefully entered an abortion center in Flint, Michigan this past June.
The pro-lifers, who were part of a Red Rose Rescue, were arrested for trespassing and disturbing the peace.  And because they "passively resisted"—a time honored tradition of civil rights protestors—the Genesee County prosecutor charged them with resisting arrest, which is a felony.
The judge refused to dismiss the felony charge.  The case is set to go to a jury trial next May.
* On November 26, we filed our reply brief in support of our request for attorneys' fees in Center for Bio-Ethical Reform, Inc. v. The Irvine Company.  In this case, we won an important free speech victory in the California Court of Appeals this past July.
The hearing on our fee motion is scheduled for tomorrow, December 6, in Santa Ana California.  Please keep this in your prayers!
* On November 30, David Yerushalmi spoke at a Thanksgiving retreat sponsored by Simxa, an important Russian Jewish organization, on the threat posed by Sharia (i.e., Islamic law) as the common threat doctrine employed across the globe and right here in the U.S. by jihadists.
* As always, we have several other important cases in the works!  We must be vigilant and persistent in our fight for faith and freedom!
Thank you for your prayers and financial support.  We couldn't do what we do without them!