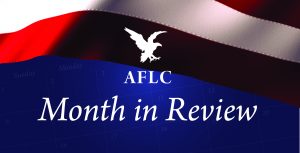 Here are the highlights for April:
* On April 8, AFLC Co-Founder and Senior Counsel Robert Muise was the featured speaker at a meeting of the Great Lakes TEA Party in Michigan.  The meeting was well attended (nearly 200 people), standing room only.  The attendees were very supportive of the work AFLC is doing.
* On April 11, AFLC Co-Founder and Senior Counsel David Yerushalmi was the speaker at a Turning Point USA event at UCLA.  Turning Point USA helps organize conservative college students on campuses across the country, and this event was well attended by students, community leaders, and university police, who were there to maintain order if the Muslim Brotherhood and progressive mobs showed up to shut down the talk.  Mr. Yerushalmi discussed Sharia and why Sharia-centric Islam is an existential threat to the West.  The talk and follow-on discussion was well-received, and protesters stayed away.
* On April 16, Robert Muise argued a pro-life speech case before a three-judge panel of the California Court of Appeals.
At issue is whether a speech restriction prohibiting "grisly and gruesome" imagery as applied to restrict our clients' abortion-related imagery violates the free speech provision of the California Constitution.
While it is never possible to predict outcomes based on oral argument, the judges, based on their questioning, did appear to favor our position.
* On April 23, we successfully defended the owners of an Oklahoma gun range (Chad and Nicole Neal) who were sued by the ACLU and the Council on American-Islamic Relations (CAIR) because they would not permit Raja'ee Fatihah, a board member of CAIR-Oklahoma, to shoot at their gun range.
CAIR, with the assistance of the ACLU, staged this lawsuit to set up the owners so that they would refuse to permit Fatihah to use the range and then use this refusal to file a federal lawsuit alleging discrimination against Muslims.  CAIR has well-documented ties to terrorism, and the Neal's refuse to allow their gun range to be used to train the next terrorist.
After defeating CAIR's motion for summary judgment, sending this case to trial, CAIR caved-in because it didn't want to defend its terrorists links in court.  As a result, CAIR dismissed its lawsuit with prejudice, ending the matter in favor of our clients.
* On April 30, Robert Muise presented oral argument before a three-judge panel of the U.S. Court of Appeals for the Sixth Circuit in our case challenging the construction of a mega-mosque in a largely Chaldean Christian neighborhood in the City of Sterling Heights, Michigan.
To end a costly and controversial lawsuit filed by the American Islamic Community Center (AICC), the mosque proponents, the City entered into a settlement agreement, permitting AICC to build the mosque in the residential community.  However, the construction does not comply with local and state zoning regulations, so we challenged the settlement agreement based on a long line of cases holding that government entities cannot enter into consent judgments when doing so circumvents and thus violates local and state laws that they have a duty to follow.
Indeed, zoning regulations are in place for the benefit of the public and cannot be simply ignored by lawyers and politicians who want to extricate themselves from a controversial lawsuit.  If this were permitted, wealthy builders could simply "sue and settle" as a way of circumventing zoning regulations.
* We continue with court appearances, depositions, briefs, and motion practice in many other cases as well.
Thank you for your prayers and financial support.  We couldn't do what we do without them!