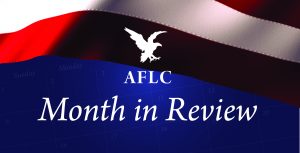 Here are the highlights for February:
* On February 12, we had our first conference with the federal court judge presiding in our case Zastrow v. City of Toledo, where we are representing two pro-lifers who are challenging the City's repeated enforcement of state and local laws to suppress the right of pro-lifers to engage in protected speech activity on the public sidewalk outside of a local abortion center.  The parties are currently discussing a consent judgment that would protect the pro-lifers' constitutional rights.  The Court directed the parties to meet for settlement discussions on April 4.
* On February 21, we filed our reply in the Michigan Court of Appeals in support of our application for leave to appeal a lower court ruling that deprived our clients their right to present a defense in their criminal trial for trespassing at an abortion center located in the City of Sterling Heights, Michigan.
Our clients were involved in a Red Rose Rescue at the notorious Northland Family Planning Center.
This appeal seeks to establish the precedent that under the circumstances of this case where there was evidence proffered of a coerced abortion, the necessity defense and the defense of others are proper defenses, and the trial court committed reversible error by refusing to provide these defense instructions to the jury as requested by the pro-life rescuers.
* On February 22, the U.S. Court of Appeals for the Sixth Circuit issued an order "inviting" the district court to respond to our petition for a writ of mandamus within 28 days.  This was a polite way of telling the lower court, "you better do your job or we are going to formally order you to do so!"
In January, we filed our writ in the Sixth Circuit.  A writ of mandamus is an extraordinary measure.  Generally, a petition for a mandamus order is made to compel a judicial officer to perform a duty owed to the petitioner.  It is issued from a superior court to an inferior court.
In this case, we are asking the Sixth Circuit to order the federal district court judge presiding in our case in Detroit to rule on the parties' cross-motions for summary judgment, which have been pending for more than 5 years.
In this lawsuit, the Suburban Mobility Authority for Regional Transportation (SMART)—a government agency—refused to run our clients' "Leaving Islam" ad even though the transit authority runs many controversial ads, including an ad from an atheist organization stating, "Don't believe in God.  You are not alone."
The court's delay in ruling on the motions is depriving our clients their First Amendment right to freedom of speech.
* On February 25, the Supreme Court directed the Washington Metropolitan Area Transit Authority (WMATA) to respond to our petition for writ of certiorari, which we filed in January.
Our petition is asking the high court to review our case challenging WMATA's refusal to display two "Support Free Speech" ads on their advertising space.
In this case, WMATA originally rejected the ads because the ad copy "advocates free speech and does not try to sell you a commercial product" in violation of WMATA's advertising guideline prohibiting "[a]dvertisements intended to influence members of the public regarding an issue on which there are varying opinions."
WMATA now claims that the ads also violate its guideline prohibiting "[a]dvertisements that support or oppose any religion, religious practice or belief."
AFLC contends that both guidelines are unlawful viewpoint-based restrictions.
WMATA is represented by Obama's former Solicitor General, Donald Verrilli.  In response to our petition, Verrilli filed a "waiver," which is a way of signaling to the Court that he believes the petition is without merit.
As the former Solicitor General of the United States, all of the Supreme Court justices know Verrilli.  Indeed, the Solicitor General has an office in the Supreme Court building, and he is often referred to as the "tenth justice" because of his close relationship with the justices on the Court.
The fact that the Court directed Verrilli to file a petition is not dispositive of whether the Court will grant review, but under the circumstances, it is a very good sign!
* On February 28, we filed a federal civil rights lawsuit against Dana Nessel, the Attorney General of Michigan, and Agustin V. Arbulu, the Director of the Michigan Department of Civil Rights, challenging their recently announced policy directive to unlawfully target groups in Michigan designated by the radical, leftist Southern Poverty Law Center (SPLC) as "hate" groups.
AFLC is one of the 31 groups in Michigan designated by the George Soros-funded SPLC as a "hate" group.  For years, SPLC has dishonestly and falsely labeled and smeared its political opponents as "hate" groups in an effort to marginalize them and the work they do.
As we note in our lawsuit, it is one thing for a radically-partisan private organization like SPLC to express its falsehoods about political opponents.  However, when the Michigan Attorney General and the Director of the Michigan Department of Civil Rights join and officially endorse this partisan attack by lending government resources and thus becoming the government enforcement agency for SPLC's radical agenda, the protections of the United States Constitution are triggered.
Our lawsuit was filed in the U.S. District Court for the Western District of Michigan.  It alleges that the challenged policy directive violates AFLC's fundamental rights protected by the First and Fourteenth Amendments to the U.S. Constitution by unlawfully targeting AFLC for disparate treatment based on AFLC's political views and the political views of those it represents in court.
* We continue with court appearances, depositions, briefs, and motion practice in many other cases as well.
Thank you for your prayers and financial support.  We couldn't do what we do without them!