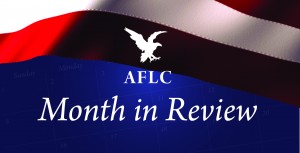 Here are the highlights for December:
*On December 19, a federal district court judge in Oklahoma denied the parties' cross-motions for summary judgment in a lawsuit filed by Raja'ee Fatihah, a member of CAIR-Oklahoma, against Chad and Nicole Neal, the owners of the Save Yourself Survival and Tactical Gun Range, sending the case to trial.
Fatihah is represented by the ACLU and the Council on American-Islamic Relations (CAIR).  AFLC represents the Neal's.
In this lawsuit, Fatihah claims that the Neal's denied him the use of their gun range simply because he is a Muslim.  The Neal's claim that Fatihah was denied service based on safety reasons.
This case is set to go to trial on July 9, 2019.
At trial, we will show that our clients' public safety concerns were entirely justified.  Not only do our clients have a right to refuse to serve someone they believe to be a public safety risk, they have an obligation to their other customers, employees, and the community to do so.  This type of litigation by CAIR and the ACLU weakens our local and national security.  Indeed, the law does not require a gun shop or gun range owner—owners of an inherently dangerous business—to equip or train the next jihadist.
* On December 20 and as a result of a recent Ninth Circuit ruling that King County (Seattle, Washington) violated the First Amendment when it rejected a "Faces of Global Terrorism" ad submitted by Pamela Geller, Robert Spencer, and their organization, AFDI, the County paid the American Freedom Law Center $200,000 in attorneys' fees and costs.  These types of victories are critically important because they allow us to take on more cases!
* Following the District of Columbia's federal court denying a motion filed by the Council on American-Islamic Relations (CAIR) to eliminate the consumer fraud allegations in a massive fraud case set to go to trial early this year, we have been busy preparing for the March 2019 trial.  The result of the trial court's ruling is that CAIR National, operating out of the District of Columbia, must stand trial not only for breach of fiduciary duty and common law fraud, but also for violations of Virginia's statutory consumer fraud, which provides for statutory penalties, punitive damages, and, importantly, legal fees and costs.  The decade-long litigation exposes CAIR to more than a million dollars in legal fees alone.
* We continue with court appearances, depositions, briefs, and motion practice in many other cases as well.
Thank you for your prayers and financial support.  We couldn't do what we do without them!