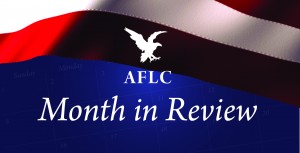 Here are the highlights for November:
*On November 5, we filed a reply brief in the U.S. Court of Appeals for the Sixth Circuit in our lawsuit challenging the City's approval of the construction of a mega-mosque in a largely Chaldean Christian neighborhood in Sterling Heights, Michigan.
In this lawsuit, we allege that the City's approval of the construction was unlawful because it violated state and local zoning regulations, which are enacted for the benefit of the public.
We also allege that the City and its Mayor violated our clients' constitutional rights by silencing their speech at a City Council meeting to discuss the approval of the mosque construction.  During this meeting, the Mayor would not permit any public comments that he deemed demeaning or disparaging toward Islam, which is an unconstitutional viewpoint-based restriction on speech.
We are awaiting an oral argument date in the Sixth Circuit.
*On November 17, AFLC Co-Founder and Senior Counsel Robert Muise and his wife gave a presentation to a well-attended "Call to Holiness" conference on marriage.  The title of their presentation was "Trustful Surrender to a Catholic Marriage."  They've been married for 31 years and have been blessed with 12 children and 7 grandchildren (and counting).
*Over the long Thanksgiving weekend, AFLC Co-Founder and Senior Counsel David Yerushalmi and his wife attended and presented at a Jewish Sabbath retreat on such topics as Sharia-Oriented Islam and Its Threat to the West and The Jewish Response to Tragedy and Evil.  The Yerushalmis have been married for 30 years and have been blessed with 2 children.
*On November 28, we filed our reply brief in the Sixth Circuit in our lawsuit against the City of Westland, Michigan, its Chief of Police, and several police officers for unlawfully arresting and detaining for over 49 hours a pro-life demonstrator based on a facially bogus claim that she made a "bomb threat" to a security guard at a local abortion center while she was protesting abortion on the public sidewalk.
The alleged "threat" was not a "true threat" punishable under the law but political hyperbole protected by the First Amendment.
The district court judge ruled that the officers did not have qualified immunity and had to stand trial for the violation of our client's rights.  The officers appealed this ruling, and we cross-appealed arguing that based on the undisputed facts, the City and its officers are liable as a matter of law.
We are awaiting an oral argument date.
* We continue with court appearances, depositions, briefs, and motion practice in many other cases as well.
Thank you for your prayers and financial support.  We couldn't do what we do without them!