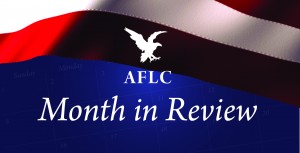 Here are the highlights for October:
* On October 8, we filed a reply brief in support of our application for leave to appeal to the Michigan Court of Appeals in our case representing five pro-lifers who were arrested, charged, and convicted for engaging in a Red Rose Rescue at an abortion center in West Bloomfield, Michigan.  During the course of the proceedings in this case, the abortion center disclosed that the rescue was responsible for stopping at least 11 scheduled abortions.  In this appeal, we are seeking to make case law that will assist pro-lifers in the future.  More specifically, we are arguing that under the facts of this case, which includes evidence of a coerced abortion, the defense of necessity and the defense of others should apply.
* On October 19, the Texas Supreme Court denied Mohamed Mohamed's request for the high court to review the lower courts' rulings dismissing in its entirety his defamation lawsuit, which he filed on his own behalf and on behalf of his 15-year old son, Ahmed Mohamed.  Ahmed is better known as "Clock Boy" for bringing a hoax clock bomb to his Irving, Texas middle school in September 2015 and causing a bomb scare that led to his arrest and suspension from school.
In July of this year, when the Texas Court of Appeal upheld the trial court's earlier dismissal of the case and award of attorney's fees, Mohamed's attorneys filed a petition for review asking the Texas Supreme Court to re-examine the matter.
Mohamed had originally sued the Center for Security Policy ("CSP") and Jim Hanson, who at the time worked for CSP, along with defendants Ben Shapiro, the local Fox affiliate, Glenn Beck, and Beck's production company, for statements Hanson had made on Beck's program about the connection between the Clock Boy hoax bomb affair and the attendant media frenzy created in large part by his father Mohamed.
CSP had explained how this was all part of civilization jihad driven by the Council on American-Islamic Relations ("CAIR"), the Muslim Brotherhood-Hamas front group in the United States that promotes civilization jihad through lawsuits.
We successfully represented CSP and Hanson in this litigation.
* Here are several pending matters to watch for:
AFDI v. WMATA: the DC Circuit reversed the grant of summary judgment in favor of WMATA and remanded to the district court to determine whether WMATA's rejection of our clients' "Support Free Speech" ad was "reasonable" in light of recent U.S. Supreme Court precedent.
Fatihah v. Neal: We are awaiting a ruling in this case where we are representing two gun range owners from Oklahoma who did not want a member of CAIR shooting at their range due to CAIR's ties with terrorist organizations. CAIR and the ACLU sued the range owners, claiming religious discrimination.
We are awaiting a ruling from the Macomb Circuit Court in Michigan in our appeal of the convictions of several pro-life demonstrators who entered an abortion center in Sterling Heights as part of an effort to rescue the unborn and their mothers from imminent harm.
Youkhanna v. City of Sterling Heights: We are waiting for the Sixth Circuit to schedule oral argument in our lawsuit seeking to stop the construction of a mega-mosque in a largely Chaldean Christian neighborhood in Sterling Heights, Michigan. We allege that the settlement agreement entered into between the mosque proponents and the City is in invalid because it violates local and state zoning laws.
* We continue with court appearances, depositions, briefs, and motion practice in many other cases as well.
Thank you for your prayers and financial support.  We couldn't do what we do without them!